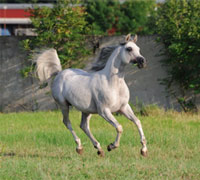 Equine Affaire—North America's most successful and most enduring all-breed, all-discipline equine expo—returns to Fairplex in Pomona, CA, Thursday–Sunday, February 3rd through the 6th. Just $16 gets you an all-access daily ticket to the event, admission for kids age 7–11 is just $10, and tots aged 6 and under get in for free. Multi-day passes are also available and offer savings from the single-day admission rates.
In 2011, Equine Affaire is proud to once again feature a blend of top-notch clinicians and presenters that will represent a broad spectrum of equestrian disciplines at their highest levels and ensure the presentation of a wide range of horse-training techniques and philosophies. Equine Affaire's star-studded lineup of "general" horse trainers will include Chris Cox,
Craig Cameron
, Julie Goodnight,
Richard Winters
, Lynn Palm, and
Jonathan Field
.
Chris Cox is one of the most sought-after trainers in North America. A native of Australia, Mr. Cox is a successful trainer and teacher who has conducted horsemanship clinics for more than 18 years. Through his Cox Horsemanship television show on RFD-TV Mr. Cox has touched the lives of thousands of horsepeople and taught them practical ways to gain better relationships with their horses.
Craig Cameron will return by popular demand to Equine Affaire and bring with him his nationally-recognized and televised Extreme Cowboy RaceTM. A life-long rancher, working cowboy, and horse trainer, Mr. Cameron has an engaging, motivational speaking style and plenty of practical horse training advice to share.
Julie Goodnight is a full-time equine professional with more than 25 years of equestrian experience in disciplines ranging from dressage and jumping to racing, reining, colt-starting and wilderness riding. Ms. Goodnight regularly shares her insight through articles in leading equine publications, clinics nationwide, and her weekly television show, "Horse Master" on RFD-TV.
Richard Winters has also distinguished himself as a champion trainer, competitor, and coach in the reined cow horse arena. With masterful communication skills, he'll share expertise garnered from decades of experience training hundreds of horses for many disciplines and present clinics on general training topics as well as the challenging sport of reined cow horse.
Lynn Palm is widely-recognized for her vast competitive successes in the realm of Quarter Horse competition, her stature as the only female four-time World Championship Quarter Horse Show Super Horse Rider, and her Palm Partnership Training method which she has presented worldwide. Throughout the four days of the 2011 Equine Affaire Ms. Palm will share her horsemanship tips of relevance to riders of all disciplines.
Jonathan Field will make his debut appearance at the 2011 Equine Affaire. Mr. Field hails from British Columbia, Canada, and is regarded as one of the best up-and-coming clinicians in the equine industry. His diverse equestrian roots straddle both the jumping and ranching realms, and he has displayed a talent for teaching people how to elevate their horsemanship and take their horses to higher levels of accomplishment. Equine Affaire attendees can look forward to sessions with this gifted clinician who teaches with both humor and kindness.
The English disciplines will be well-represented at Equine Affaire through sessions conducted by Axel Steiner, Jeff Cook, and Andy Marcoux.
Axel Steiner is a highly-respected FEI Five Star judge who has judged dressage competitions in 35 different countries and such prestigious events as the World Cup Finals and Pan American, and Olympic Games. Mr. Steiner is a long-standing member of the USEF Dressage Committee, a judge instructor/examiner, and faculty member of the USDF "L" program.
Widely-recognized in the hunter-jumper community for his expertise as an accomplished trainer, Jeff Cook divides his time between teaching jumping clinics near his home in Oregon and training horses for Saraglenn Stables in Florida. He'll bring more than 20 years of training and coaching experience at the highest levels to his jumping clinics at Equine Affaire.
Andy Marcoux is an American Driving Society "r" combined driving judge who possesses extensive experience as a professional coachman and trainer of driving horses. Mr. Marcoux teaches and promotes coach driving; competes in pleasure show driving in the single, pair, tandem, unicorn, and four-in-hand divisions; and competes in combined driving to the advanced level in the single and pair divisions.
By his late 20s, Matt Mills was already ranking consistently within the top 20 reining competitors and top 25 reining purse winners worldwide. His additional titles include winning the USEF Reining Championship and a gold medal at the World Equestrian Games in Aachen, Germany. Mr. Mills will teach his secrets for executing reining patterns at clinics on Friday at Equine Affaire.
The Tellington Method was first created four decades ago, and its creator, Linda Tellington-Jones, will return to Equine Affaire to teach her trademarked Tellington TTouch Equine Awareness Method in sessions scheduled on Friday and Saturday. Ms. Tellington-Jones is an internationally-acclaimed authority on animal behavior, training, and healing and the author of 15 books and 18 videos relating to the training of dogs, cats, and, of course, horses.
Riders who enjoy the challenges of endurance and competitive trail competition will appreciate the opportunity to garner advice through clinics presented by world-class distance competitor, Becky Hart. Ms. Hart has covered more than 19,000 miles in distance competition, amassed an array of competitive titles which is unsurpassed in her sport, and is one of the most successful and celebrated riders in the horse world.
Clinician, trainer, and author, Brenda Imus, is one of the most widely-recognized authorities on the naturally gaited horse. In clinics on Thursday and Friday she will show Equine Affaire attendees how to achieve correctness and lightness in gaited horses and create smoother, safer, and more dependable mounts.
Deborah Johnson is well-known within the Arabian horse world for her competitive accomplishments in a variety of divisions, for her extensive support of the Arabian Horse Association, and for her skills as a judge of shows at the highest level of Arabian competition—the United States and Canadian National Championships. At Equine Affaire Ms. Johnson will teach techniques for training gaited horses to excel in both the hunter pleasure and western pleasure arenas.
Mule enthusiasts will appreciate clinics on mule training presented by Linda Laird on Sunday at the event. Ms. Laird trains and shows mules for disciplines including dressage, jumping, western, trail, reining and gymkhana, and her mules are ranked in the Top Ten by the American Mule Association.
A World of Horses in Equine Affaire's Breed Pavilion
Whether your heart beats faster for an Andalusian or a mustang, a competitive mount or a pleasure horse, you'll find it at Equine Affaire—along with friendly, knowledgeable horse breeders and representatives who'll answer your questions about characteristics, uses, bloodlines, and horse selection. The Breed Pavilion will showcase dozens of breeds of horses from North America and beyond including such diverse breeds as Appaloosas, Lusitanos, Friesians, Lippizans, Paso Finos, Saddlebreds, burros, miniature horses, Tennessee walking horses, Shetland ponies, and more.
A Special Place for Trail Riding Enthusiasts
With retail and educational exhibits and a comprehensive program of demos on topics relating to trail riding and trail use, Equine Affaire's Trail Riding Pavilion will provide everything you need to enhance your trail riding experience. Whether you want to shop for a camper, research public trails, garner tips on trail riding safety, join a trail riding club, purchase a portable corral, or learn how to set up camp, the Trail Riding Pavilion will be the place to prepare you and your horse to "hit the trail."
Convenient, One-Stop Shopping
What's a horse fest without shopping? Lace up your most comfortable shoes and be prepared to wander through Equine Affaire's extensive trade show in five exhibit halls and the areas in between. This year's event will feature more than 400 vendors offering everything from tack and apparel to horse-care items and trailers. Whether you're planning to build a barn, replace a fence, or install a riding arena or you're shopping for new tack, attire, artwork or DVDs, you'll find information, manufacturers, dealers, and other sources at Equine Affaire.
Equine Affaire 2011: A Great Value for Horse Lovers
You can enjoy all that Equine Affaire has to offer—the clinics and seminars, the shopping, the specialty pavilions, and Craig Cameron's Extreme Cowboy Race in the evening for the price of a single-day or multi-day general admission ticket. Adult admission is only $16/day and youth (age 7-10) tickets are only $10. Adult admission will include a free souvenir program that includes everything you need to know to make the most of your visit.
Other ticket options include "The Weekender" three-day (Fri-Sat-Sun) ticket for $40 (adults) or $25 (kids) or "The Eventer," a four-day ticket for $50 (adults) or $30 (kids).
Everything You Need to Know to Go
Equine Affaire's new Web site (www.equineaffaire.com) contains everything you need to know to make your visit a fun and successful one: admission details, directions, hotel listings, the complete roster of presenters, daily schedules, maps, Ride With The Best and Extreme Cowboy Race materials, facility information, and tips for making the most of your Equine Affaire experience. You can order advance tickets online or by phone at (740) 845-0085, Monday-Friday 9:00am-5:00pm Eastern.