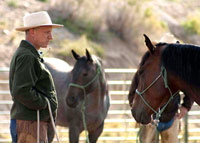 Buck Brannaman photo by Emily Knight, courtesy Sundance.org
Among the hundreds of entries showcased at this year's Sundance Film Festival, one will stand out to horse lovers. Buck, a documentary about renowned horse trainer and clinician Buck Brannaman, earned recognition at the festival with the U.S. Documentary Competition Audience Award.
Brannaman and his brother performed rope tricks at rodeos and on television as children, but behind the act was an abusive father. When the boys went to live with a foster family, they experienced a life free of fear for the first time. Today, Buck Brannaman uses his firsthand experience with abuse to work with troubled horses and their owners.
Buck
follows the journey of Brannaman's life and shows how he has become an inspiration to people through his work with horses.
The film's director, Cindy Meehl is a horse owner with a background in fashion and art. Buck is her first documentary film.
A wider theatrical release may be on the horizon as Sundance Selects has acquired the North American rights to the film.
The Sundance Film Festival, held each January in Park City, Utah, is the largest independent film showcase in the United States. Being selected for Sundance is one of the highest honors for up-and-coming independent filmmakers. Many films from outside Hollywood's mainstream have been discovered and gone on to box office success after being showcased at Sundance.