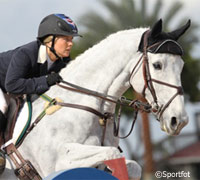 Ashlee Bond and Chivas Z competed in the Battle of the Sexes at the Palm Beach International Equestrian Center. Photo:
www.sportfot
.com
The women have dominated the Nespresso Battle of the Sexes for three years now with another exciting win in Saturday evening's dynamic competition. The women's team, captained by Katie Prudent, and including riders Georgina Bloomberg, Ashlee Bond, Brianne Goutal, Lauren Hough, Maggie Jayne, Reed Kessler, Candice King, Laura Kraut, Christine McCrea, Catherine Pasmore, and Nicole Simpson, swept the three phase competition with 37 points over the men's score of 25 to win their third title on February 5, 2011.
The evening's attendance was approximately 6,500 people for the class at the Palm Beach International Equestrian Center. Equestrian Sport Productions CEO Mark Bellissimo stated, "This was a great event and we're very thankful to the riders and their owners for supporting this class with their time and their horses. Special classes like this really grow our spectator base, which is one of our biggest goals at the FTI Winter Equestrian Festival."
The first round of competition in Saturday's Nespresso Battle of the Sexes was the speed round, with a six to five win for the ladies. The men and women were tied up as the final competitors entered the ring, and Laura Kraut outjumped Nick Skelton by almost nine seconds to put the women on top.
Up next, the women won seven to four in the match races to bring the total to 13 points over nine. The final six-bar competition sealed the fate of the teams, with the women leading 24 to 16 to win over the men.
Michelle McFaul, Vice-President, Community Affairs and Special Events of Nespresso, was thrilled with the outcome of Saturday's competition and teased, "It is a total privilege for Nespresso to sponsor this class for the third year in a row. I am just fearful that this is the last year because the boys will not show up again!"
The youngest rider in tonight's Battle of the Sexes competition at 16 years old, Reed Kessler was competing in the class for the first time and also showed in her first six bar in the class. Kessler and her trusty horse Flight earned points in both the speed and match race phases, and she rode Ligist through three clear rounds in the six bar.
A very excited Kessler beamed after the class. "It was so fun. I watched it last year and all I could think was how much I wanted to be on the team. My biggest fear as it got closer was that if I lost a point I would let my entire gender down," she laughed.
"Both my horses were amazing," she contined. "Flight is a total pro and Goose (Ligist) was awesome. I have never done a six bar and Goose has never done a six-bar. He got better and better and the last jump was literally over our heads. It was crazy!"
Also one of the evening's youngest riders and showing in her first Nespresso Battle of the Sexes, 18-year-old Catherine Pasmore did extremely well. Pasmore earned a point in the speed round riding Nakano and then jumped clear through all four rounds in the six-bar aboard Vandavid to earn a special award for the most clear rounds. Pasmore's trainer Laura Kraut had the fastest time overall in phases one and two and also won a special prize for her efforts.
"I was really nervous! I didn't want to let all these important people down, but it was a lot of fun," Pasmore said after the class. "I thought it would be a lot of pressure, but everybody was supporting each other."
Pasmore explained that this was her horse Vandavid's second time competing in a six-bar. "He did his first at the Holiday HorseFest, and he tied for the win. He's so special and I love him," she smiled. "I didn't think they were going to put it up again, and then Laura said, 'No, stay in!' I thought she was crazy. I said I would give it a try and I cantered down to it. The second to last jump felt big enough to me, and then the last one was huge. It was over my head and it was over his head! I had my leg there, released, and he didn't let me down. He jumped it easily; you wouldn't even have known it was that big!"
For full results please visit www.showgroundslive.com and for more information please visit www.equestriansport.com.
Final Results: Nespresso Battle of the Sexes
Women: 37 points
Chef d'Equipe – Katie Prudent
Maggie Jayne
Catherine Pasmore
Georgina Bloomberg
Candice King
Reed Kessler
Christine McCrea
Ashlee Bond
Brianne Goutal
Nicole Simpson
Lauren Hough
Laura Kraut
Men: 25 points
Chef d'Equipe – Henri Prudent
Daniel Bluman
Ben Meredith
Shane Sweetnam
Nick Dello Joio
Enrique Gonzalez
Jonathan McCrea
Ben Maher
Paul O'Shea
Will Simpson
Aaron Vale
Nick Skelton