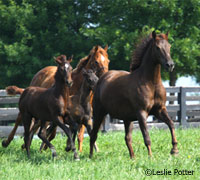 The The American Society for the Prevention of Cruelty to Animals (ASPCA) recently announced that it awarded $1,055,400 in the form of 93 grants to support equine rescue groups and humane organizations in 32 states in 2010, nearly doubling the $546,789 distributed in 2009.
"Thanks to the continued public support of the ASPCA Equine Fund, we were able to award the most funding we've ever granted in a single year in 2010," said Jacque Schultz, senior director of Community Outreach for the ASPCA. "We intend to continue our strong commitment to equine rescue and welfare efforts in 2011 – the more resources we can provide to these hard-working groups, the better they can serve our nation's horses."
More than 32 percent of the grants awarded to equine groups in 2010 will be used to complete various capital improvements so that the groups can safely care for more horses. Another 23 percent of the grants awarded helped provide groups with emergency supplies of hay. An additional 17 percent of grants went toward helping groups provide care for the equine victims of large scale anti-cruelty seizures of 12 horses or more. Additional grants awarded will allow groups to obtain more training for staff and accreditation for their organizations, conduct community outreach to horse owners, provide alternatives to NYC's carriage horse industry and provide other equine veterinary or welfare support.
2010 grant recipients include the Kentucky Equine Humane Center, Old Friends Inc., Return to Freedom Wild Horse Sanctuary, Cowgirl Spirit Rescue Drill Team, and Days End Farm Horse Rescue. A total of 93 grants were awarded to equine groups.
As part of the more than $1 million granted this year, the ASPCA also launched the Million Dollar Rescuing Racers Initiative in 2010, the first year of a three-year drive to save retired racehorses. Six organizations received initial disbursements from the ASPCA to enable them to expand their programs and make facility improvements, all in an effort to care for more retired thoroughbreds.
With help from the ASPCA, the San Diego Equine Safety Net Coalition also was formed in 2010, and has helped more than 200 horses through veterinary vouchers, a community hay bank, and re-homing facilitation. The ASPCA also completed its three-year commitment to Return to Freedom, enabling the wild horse sanctuary to provide the highest standards of care to its equine residents.
The ASPCA Equine Fund provides grants to non-profit equine welfare organizations in the United States for purposes in alignment with our efforts to protect horses. The ASPCA Equine Fund grants program seeks to award equine organizations who strive to achieve best practices, including maintenance of updated websites and robust fundraising practices. To learn more about the ASPCA Equine Fund and 2010 grantees, visit www.aspcapro.org.