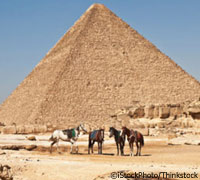 Protesters in Egypt celebrated when President Hosni Mubarak finally relinquished his position. However, weeks of protests and uncertainty in the country left many animals abandoned and neglected, and welfare organizations are struggling to keep up.
According to the
Egyptian Society for Mercy to Animals
(ESMA), many of the residents who fled the country left their animals behind. With businesses shuttered in Cairo, there is fear that pet shops left animals inside with no one to care for them. While ESMA's original mission was to help protect the large population of stray dogs in Cairo, they are now taking on the extra task of finding and feeding the abandoned pets that are accustomed to being taken care of by humans.
Also Read: Animal Welfare Groups Outraged by China's Horse Fighting Events?
One of ESMA's major projects in the wake of the Egyptian revolution is caring for the horses that used to take tourists on rides near the Pyramids. As the sole source of income for their owners, these equines literally earned their keep as riding horses. With no tourists visiting Egypt, the owners have no revenue and no way to feed their animals, their families or themselves. Additionally, during the height of the protests some of the roads around Cairo were blocked, leaving caretakers unable to reach the horses. As a result, many horses have been neglected for weeks or abandoned altogether. Earlier this month, The Daily Mail newspaper published photos that showed the bodies of emaciated horses that had perished after being left to fend for themselves shortly after the protests began.
Working equines and their owners often live at or below the poverty line and have few options without the income that comes from tourists. EMSA is working to feed and care for these horses in addition to other abandoned and stray animals in Cairo. British charity The Brooke, which specializes in providing care for working horses, mules and donkeys, has a long-established presence in Cairo and other parts of Egypt. The Brooke is providing emergency veterinary care and feed for Egyptian horses via its Cairo Clinic and its mobile veterinary teams.
Resources
Egyptian Society for Mercy to Animals
American Friends of the Brooke
The Brooke's flickr site