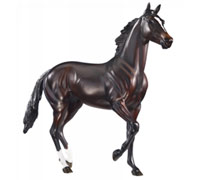 Team Zenyatta has announced that they are graciously donating their share of the proceeds from the sale of the Zenyatta Breyer Horse model to Communication Alliance to Network Thoroughbred Ex-Racehorses (CANTER), Old Friends and Race for Education (RFE).
On January 9, Zenyatta made the announcement on her blog at
www.zenyatta.com
.
"From a very early point in my career, my Team felt it was quite important for me to be philanthropic," states Zenyatta's blog. "Life often presents so many different types of challenges. This is true for people as well as my fellow horses. It is the belief of MY TEAM that when one is in a position to offer a 'helping hoof'…..one should do so!"
CANTER is a nationwide organization that helps connect retired racehorses in need of new homes with prospective owners. The program started in Michigan and now has chapters from New England to California and several locations in between.
Kentucky-based Old Friends, which also has a New York location, provides a retirement home for rescued and aging Thoroughbred racehorses, stallions and broodmares.
The Race for Education provides assistance for children of agricultural and Thoroughbred-industry employees by providing college scholarships, educational advising, financial literacy programs. RFE has provided more than $2.5 million in college scholarships for students in need of financial aid.
Click here for more information on the Zenyatta Breyer model.
Find out more about these Thoroughbred charities.
CANTER
Old Friends
Race for Education