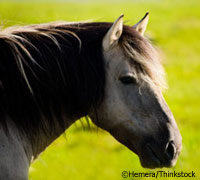 Every year, thousands of wild horses and burros across the western rangelands are rounded up by the Bureau of Land Management (BLM). Some are sold to adoptive homes, but many remain in long-term holding ranches in the Midwest where they live out their days. The purpose of these roundups is to control the size of the Mustang herds to prevent overgrazing, spread of disease, and other problems that come with overpopulation.
The wild horse program has picked up many critics during its years of operation. Some say the roundups are cruel, unnecessary, and done for the benefit of special interests such as cattle ranchers or oil companies. Others point to the program as an example of wasteful spending and question why the government is paying to care for the tens of thousands of formerly-wild horses that don't get adopted.
On Wednesday, February 16, the U.S. House of Representatives approved an amendment that would cut the BLM's budget by $2 million. The wild horse program currently has a budget of $64 million. About half of that amount goes to housing the equines kept in long-term holding.
"It is just a drop in the bucket when you are talking about the overall cost problem we are facing," said the amendment's co-sponsor, Rep. Dan Burton, R-IN. "But it is one I hope will send a very strong message to the BLM to treat these Mustangs in a humane way."
"Instead of capturing wild horses and holding them in pens for life, BLM already should have fully implemented a less-costly, preventative and more humane option: That of controlling herd size through contraception," said Rep. James Moran, D-VA, a supporter of the amendment.
One vocal opponent of the amendment is Rep. Cynthia Lummis, R-WY. "It is Congress that has caused the problems by saying we cannot slaughter horses, yet we are not supposed to keep them in pens," she stated. "We are supposed to allow them to overgraze the West."
While the BLM is not prohibited by law from culling the herds as a management option, director Bob Abbey has stated that the Bureau will not slaughter or euthanize healthy Mustangs and burros.
Abbey has acknowledged that the management program needs changes to make it financially viable while still carrying out the duty of keeping the wild horse numbers at a healthy level. Fertility control, expanded adoption programs and housing Mustangs on privately-owned lands are among the solutions under consideration by the Bureau.
The BLM has not issued a response to the proposed budget cut.