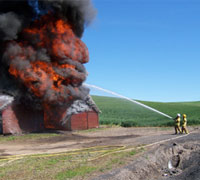 A Kansas City-area therapeutic riding center hopes to recover after a devastating fire early in the morning on February 20.
A barn used by Sugar Creek Equinapy and the attached apartment were destroyed in the fire. The two residents of the apartment escaped, but the six horses in the stable did not. Five horses and a miniature donkey used by the organization survived unharmed as they were turned out at the time.
The owners of the horses estimate the damage will be in the hundreds of thousands of dollars. They have stated that they intend to rebuild and continue offering equine-facilitated therapy. They are seeking a temporary facility to continue lessons until they can rebuild.
The program had up to forty riders enrolled during peak times of the year. The instructors plan to have grief counselors available for their students in the coming weeks.
The cause of the fire is still unknown and is being investigated. Windy conditions were likely to have increased the speed at which the flames destroyed the structure. According to Kansas City TV station KCTV, a fire at the same location killed 10 horses in 2005. The cause of that fire was unknown, but assumed to be the result of electrical problems.
To find out more about Sugar Creek Equinapy or donate to their recovery efforts, visit SugarCreekEquinapy.com
Further Reading
Extinguish the Threat of Barn Fires
Be Prepared for a Barn Fire
Stop a Barn Fire Before It Starts