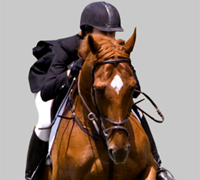 One of the premier competitions in the international sport of Modern Pentathlon is making its debut in the United States. For the first time in more than a decade, one of the legs of the Modern Pentathlon World Cup will be held on American soil, in Rancho Mirage, California through February 27.
Although it is featured in the summer Olympics, many Americans are unfamiliar with modern pentathlon. The sport has been in the Olympics since 1912 and was designed to simulate the skills required by a 19th-century soldier. Athletes are tested on their physical abilities in running and swimming, their precision in shooting, their intelligence and technique in fencing, and their adaptability and courage in riding. Women's modern pentathlon was added to the summer Olympics in 2000.
The 3 km cross-country running phase is the final test in modern pentathlon. Before the start of the running phase, the competitors are ranked based on their scores to the preceding four phases and start times are staggered accordingly. This makes the finale of the competition more exciting for spectators as the first person to cross the finish line will be the winner. Before this change was made, running times would have to be factored in to the overall scores before a winner could be named.
However, even though the running race is designed for excitement, the equestrian phase is especially challenging for the athletes. Competitors ride a show jumping course of 12 to 15 obstacles up to 4′ high and wide on an unfamiliar horse. They draw horses just 20 minutes before the start of the equestrian event and are only allowed a short warm-up before competing.
The American team's coach, Michael Cintas, is a lifelong equestrian based in southern California. He coached the U.S. team at the 2008 Olympics in Beijing and is currently helping aspiring Olympians prepare for the 2012 Games in London.
A live webcast of the competition will be available this weekend at pentathlon.org
The remaining World Cup events for 2011 will be held in Hungary, China and Great Britain. The second stop on this year's circuit was scheduled in Cairo, but was cancelled due to political unrest in Egypt.