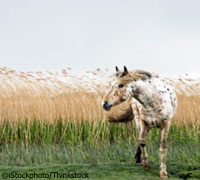 The 2011 Illinois Horse Fair will take place from March 4-6 at the Illinois State Fairgrounds in Springfield. More than 10,000 horse enthusiasts are expected to attend.
Featured clinicians include Ryan Gingerich,
Charles Wilhelm
and
Craig Cameron
. Additional educational programs include:
Visit a real horse camp (complete with tents, corral, horses, equipment demos and storytelling) where Back Country Horseman and Master Instructor Bob Wagoner will be camping and sharing a few skills to make your own back country trips easier and more fun. He'll teach about horse packing and minimum-impact excursions and answer your questions three times daily at the campsite. Wagoner's appearance courtesy of Illinois Quarter Horse Association.
Put your hand into a horse's mouth ­– safely – as Marc Miles, DVM, demonstrates dental floating without trauma, using his patented "Gizzmo" to hold the horse safely and securely. Why put your hand into the horse's mouth? To feel the difference before and after a professional floating and learn why it's essential to a horse's overall health.
Learn about the physics of saddle fitting from Julie Cyra of West 20 Saddle Co., a firm specializing in saddle fitting for all disciplines. You'll learn the differences in how saddles are constructed, sized and how to tell if one is appropriate for both you and your horse.
Pick up handy techniques for getting on the judge's score card…and staying there…as instructor Jennifer Lindgren takes you inside the show ring for a look at what the judges look for and what they see.
Reduce the risk of colic in your horse and in your stable through responsible stable management as explained by Marcia Thibeault, DVM.
See what natural hoof care is all about, as Ida Hammer, hoof trimmer and American Hoof Association member, introduces you to the practice.
Set up and manage your own web site for less than $10 a month with instruction from Sandy Trudell, web designer and horseman from Creative Buddy.
Take videos that WOW, after hearing about selling horses in the electronic age from trainer Brock and marketer Britney Reinebach.
Make money with manure – after Randy Fonner, ag specialist, U of I Extension, explains programs and efforts to deal with "Manure: You got it. Who wants it?"
Weigh in on "targeted" versus "mandatory all inclusive" Coggins testing as Sheryl King, Ph.D., PAS presents research and leads a discussion on recent declines in "positives" and increases in lab fees.
Release your fears, ride more confidently as Jeanne Lambrecht, Ph.D. gives you techniques and invites your questions, leading you to be able to ride through fear.
Stretch your clothing budget as horsewoman and fashion consultant Pam Siegler shows you current trends in the show ring and how to achieve them on a budget.
Get ideas on alternate income sources and programs that may help you earn more from your farm or stable operation, as presented by equine instructor and program manager Jennifer Lindgren.
For more information, including how to purchase tickets, visit The Illinois Horse Fair website.