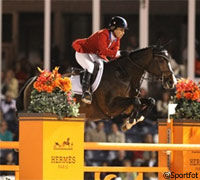 Beezie Madden and Coral Reef Via Volo. Photo: Sportfot.com
The 2011 FTI Winter Equestrian Festival hosted its 10th annual $75,000 FEI Nations Cup on Friday evening, presented by G&C Farm, with an exciting victory for Team USA. Made up of Mario Deslauriers riding Urico, owned by Jane F. Clark, Margie Engle riding Indigo, owned by Griese, Garber, Hidden Creek and Gladewinds, Beezie Madden riding Coral Reef Via Volo, owned by Coral Reef Ranch, and McLain Ward riding Sapphire, owned by Ward and Bluechip Bloodstock, and led by Chef d'Equipe George Morris, the United States came out on top in the unique team competition.
Friday night's class consisted of two rounds shown over an intricate course set by Steve Stephens of Palmetto, FL. After the first round, each team dropped their highest score. In the second round, the teams returned in order of highest to lowest total faults, and three riders from each team returned. The winner was determined by the lowest total of each team's top three riders from each round.
After round one competition, the United States was in the lead with just four faults for their total. McLain Ward and Sapphire and Margie Engle and Indigo each delivered clear rounds. Mario Deslauriers and Urico and Beezie Madden and Coral Reef Via Volo each had four faults. Deslauriers' score was dropped to leave the team with a four fault total.
Coming back for the second round, Ward and Sapphire jumped clear again to keep their team at the top. Engle had an unfortunate rail at the last fence with Indigo, but Madden and Via Volo pulled it out in the end to also jump clear and leave the team with just eight faults in total.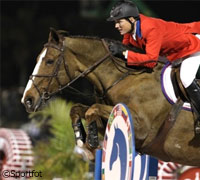 McLain Ward and Sapphire. Photo: Sportfot.com
Team USA was thrilled with their performance tonight and the riders each commented on the evening. Madden stated, "We all made a big effort to make this a high priority so I think it was really important to try and win tonight. We have had a little trouble the last three years (since we were) building our team (during WEF), but everyone made it a high priority this year and it paid off. It was important for the team and the country."
Ward noted, "I thought it was a great class. It was a great crowd and a great course. Steve did a good job; that was the hardest Nations Cup course that I have seen in a while. This year we had a strong team full of seasoned veterans and some veteran horses. Mine obviously jumped very solid. It is what we came to do and it worked out really well."
"It's a strong team," Engle affirmed. "I was really happy with my horse and the other ones were super. I thought my horse jumped even better in the second round than he did the first."
Mario Deslauriers and Urico. Photo: Sportfot.com
Riding for Team USA for the first time in a Nations Cup class in Wellington, Deslauriers was very happy with his team's results. "Being in Palm Beach and riding for the first time for the country here has been amazing and working with great teammates has made life easy. I was very happy with my horse. It was great to represent America here and it was important to us to win at home."
After leading the team to victory, Morris stated, "It was a great night. They didn't need much from me; we had great horses and great riders. It was great to beat our riders to the north by a sneak, but they did just as well."
Team Canada finished in second place with eight faults in each round to total 16 points. Eric Lamaze and Artisan Farm's Sidoline Van De Centaur jumped a clear first round. Jonathon Millar riding Millar Brooke Farm's Contino 14 and Ian Millar riding Team Works' Star Power each had four faults to total eight in round one. Yann Candele and Susan Grange's Pitareusa were the drop score with eight faults.
Margie Engle and Indigo. Photo: Sportfot.com
Jonathon Millar and Contino 14 were first to return in round two for Canada and jumped clear. They were followed by four fault rounds from Ian Millar and Star Power and Eric Lamaze and Sidoline Van De Centaur for eight faults in round two. The two round total of 16 brought the team into second place led by Chef d'Equipe Terrance Millar.
Chef d'Equipe Millar also commented on the night's class, noting, "Once we saw the line up for the American team we knew they weren't fooling around. We were really happy to come out and jump, and it was a great night. I think we all look forward to this night in Palm Beach."
In a three way tie, Australia, Great Britain, and Ireland all finished with 37 points. Australia's James Paterson Robinson and Niack De L'Abbaye, owned by Ger Poels Horses, were the only other pair to jump double clear through both rounds of competition.