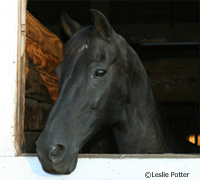 Recognizing that a number of older Morgans that were not registered were being rescued in recent months, the American Morgan Horse Association's (AMHA) Registry Committee desired to provide the people rescuing these horses with an opportunity to register the horses at a reduced fee. The AMHA Board of Directors voted unanimously at its February meeting to put the following reduced fee into effect immediately.
The fee to register horses twenty-four (24) months of age and older at the time of registration is to be $210 for members.
This fee reduction is effective immediately through December 31, 2011 € The reduced fee is available only to AMHA members (a membership application submitted with a registration application entitles the person submitting the application to receive the reduced fee).
The postmark date will establish the fee (i.e., registrations already in progress and those received after December 31, 2011 are not eligible for the reduced fee.) € Registration applications will be accepted for consecutive generations of unregistered Morgans.
All other requirements for registration will apply, including DNA, signatures, and stallion service reports.
Although the purpose was to assist in the registration of rescued horses, this fee will be available to all members for the registration of all Morgans over 24 months of age.
Founded in 1909, the American Morgan Horse Association is a non-profit organization serving more than 50,000 Morgan horse owners, breeders, exhibitors, and enthusiasts throughout the United States. AMHA serves as a parent organization to more than 90 recognized Morgan horse clubs and national service organizations.
For more information, visit /redirect.php?location=http%3a%2f%2fwww.morganhorse.com%2f.