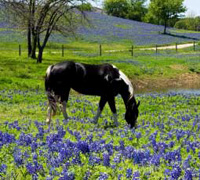 Springtime planting is just around the corner! Why not make this the year to finally beautify
those sparse areas in your yard, and also help SHI at the same time? For every purchase made on
the Flower Power Fundraising site, 50% will be donated back to Stolen Horse
International/NetPosse.com!
A purchase as small as $10 can put beautiful flowers in your yard and help Stolen Horse
International continue to provide a comprehensive theft awareness program to all facets of the
horse industry and help owners of stolen and missing horses. Don't wait! The NetPosse Flower
Fundraiser runs through April 29th!
Click here to go to the fundraising site.
Click here to read more about Stolen Horse International.
Click here for horse theft prevention tips.