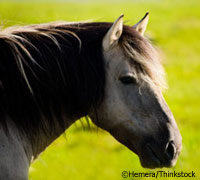 With more than 30,000 American Mustangs waiting to be adopted in BLM facilities, the Mustang Heritage Foundation is stepping up its efforts to help these American legends find adoptive homes. In 2011, the Mustang Heritage Foundation's Extreme Mustang Makeover events will continue to showcase the talents of the American Mustang and will up the ante by offering the largest purse ever in Mustang competition.
Building on the success of the 2010 Supreme Extreme Mustang Makeover, the 2011 event will be bigger and better. Two hundred Mustangs will be available for adoption and will be eligible to compete for their share of an estimated $200,000 purse at the September 16-17 Supreme Extreme Mustang Makeover to be held in Fort Worth, Texas. With double the purse of the 2010 event, this will be the richest wild horse competition in history. With the larger purse available, the Supreme event follows a different format than other Extreme Mustang Makeovers, and Mustangs are adopted prior to the competition. A competitive-bid adoption will be held April 16 and will be televised through Superior Auction Services on RFD-TV. Bidders must be pre-approved by March 1.
The year began in Fort Worth at the Southwestern Exposition Livestock Show and Rodeo with the invitational Mustang Magic. In May, Extreme Mustang Makeover returns to Norco, California. Living up to its Horsetown USA moniker, Norco competitors will showcase their Mustangs' talents on an urban trail course as well as other classes. The event is scheduled for May 13-15, 2011.
Equine superstar Al Dunning will again add extra excitement to the Extreme Mustang Makeover in Fort Collins, Colorado. Dunning will offer insight and coaching at the Colorado State University event June 10-12.
The storied history shared by Mustangs and Native Americans will be front and center when the Extreme Mustang Makeover makes a stop at the Navajo Nation and Diné College in Tsaile, Arizona. The scenery will be breathtaking and the experience unforgettable August 12-14, 2011.
The final stop on the schedule will be Murfreesboro, Tennessee, October 21-23, 2011. The Extreme Mustang Makeover returns to Tennessee Miller Coliseum on the campus of Middle Tennessee State University.
Excluding the Supreme Extreme Mustang Makeover event where horses will be adopted prior to competing, Mustangs will be available for adoption at all Extreme Mustang Makeover events. Visit www.extrememustangmakeover.com for the latest information on the Extreme Mustang Makeover events.
| | |
| --- | --- |
| Date | Event – City, State |
| April 16, 2011 | Supreme Extreme Mustang Adoption – Fort Worth, Texas |
| May 13-15, 2011 | Extreme Mustang Makeover – Norco, California |
| June 10-12, 2011 | Extreme Mustang Makeover – Ft. Collins, Colorado |
| August 12-14, 2011 | Extreme Mustang Makeover – Tsaile, Arizona |
| September 16-17, 2011 | Supreme Extreme Mustang Makeover – Fort Worth, Texas |
| October 21-23, 2011 | Extreme Mustang Makeover – Murfreesboro, Tennessee |