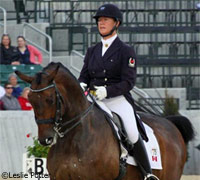 Canadian dressage rider Jacqueline Brooks wore a helmet in her grand prix freestyle at the 2010 Kentucky Cup competition. Photo: Leslie Potter
In response to increased safety concerns in the dressage community, Canada's governing body of equestrian sport has announced a new rule mandating helmets for some dressage competitors.
Equine Canada announced the new rule in March and it will take effect on May 1, 2011. Under the rule, all riders competing at Fourth Level or below must wear ASTM/SEI or British Standards Institution (BSI) certified protective headgear while mounted at a recognized show. The rule also mandates helmets for any non-competing riders on the showgrounds as well as riders on non-competing horses. This would affect horses or riders schooling on the grounds of a show where they are not competing.
Equine Canada's rule follows a similar rule change from the United States Equestrian Federation (USEF) that took effect earlier this year. Under the USEF's rule, all riders are required to wear ASTM/SEI certified helmets while mounted with an exception for riders 18 and older competing only in FEI tests, Prix St. Georges and above.
Read more at EquineCanada.ca
As of May 1st, 2011, the following rule regarding safety headgear will be adopted by Dressage Canada: E4.0 Safety Headgear
1. ASTM/SEI or BSI approved headgear must be worn by all riders showing Fourth Level and below, regardless of age, when mounted on the showgrounds at EC Bronze, Silver and Gold competitions.
2. ASTM/SEI or BSI approved headgear must be worn by all non-competing riders mounted on any competing horse at EC Bronze, Silver and Gold competitions.
3. All riders of any age while on non-competing horses must wear protective headgear at all times while mounted on the competition grounds.
4. The penalty for contravening 4.0.1 is elimination.
5. Non-competing riders who contravene 4.0.2 and/or 4.0.3 will be instructed to dismount until wearing an ASTM/SEI or BSI approved helmet.
Note: At the tack check which follows the test, the steward may ask the rider to dismount so that the helmet may be inspected for the ASTM/SEI or BSI label.