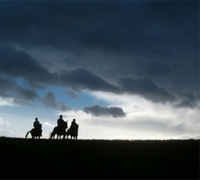 UPDATE May 19, 2011: Due to concerns about the EHV-1 outbreak in western states, the Ride for the Rescues has been postponed from its original date of June 4 to September 10, 2011.
ORIGINAL ARTICLE:
After setting a Guinness World Record for
establishing the Largest Competitive Trail Ride
, the American Competitive Trail Horse Association (ACTHA) has announced that its Ride for the Rescues will be an annual event.
On June 13, 2010, 1,700 horse-and-rider teams around the country participated in the inaugural benefit ride, raising around $70,000 for various horse charities and rescues. On September 10, 2011, equestrians will get back in the saddle to collect money for the Mustang Heritage Foundation (MHF), a nonprofit organization that works to facilitate adoptions of wild Mustangs and burros.
"We really support [the MHF's] vision in assisting in the adoption of the wild horses," says Pam Campbell, coordinator of the Ride for the Rescues. "We believe in their mission and are thrilled to do our part to help them help the Mustangs. We encourage everyone to be a part of this special event."
Anyone can participate in the Ride for the Rescues by hosting, riding in or volunteering at an event. Riders will cover six miles of trail consisting of six obstacles, which can normally be selected by the host but on this day must be the same at each event in order to be considered for a world record. Those who don't want to negotiate the obstacles can register as "buddy riders."
"This is casual competition," says Campbell. "If you trail ride, you can do this. It's just a nice trail ride with your friends and a good time with your horse."
To date, the ACTHA has raised more than $350,000 for equine charities and rescues in its mission to recognize the American trail horse, maintain a registry for all breeds, and promote the humane treatment of horses in need. For more information about the 2011 Ride for the Rescues, visit /redirect.php?location=www.actha.us.