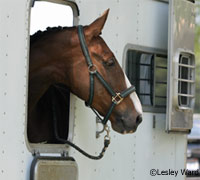 The side of the road is a dangerous place to be, especially when you have horses onboard.
As a conscientious horse owner, you should try to minimize that time. One way to do that, according to Bill Riss, managing member of USRider, a roadside assistance plan designed with horse owners in mind, is to carry not one, but two spare tires when trailering your animals.
Statistics show that tire failure is the most common cause of roadside disablements. Riss added, "In USRider's 10 years of providing service to our Members, we have seen a trend of a high incidence of disablements where replacement of two tires on the same side of a trailer was required, either due to encountering the same road hazard or the failure of one tire causing the failure of a second."
With only one spare tire available, the disablement will take much longer to remedy since a second tire will have to be located and delivered to the scene or – even more time-consuming – towing will be required. A second spare could provide a simple and prompt resolution.
To minimize the length of time spent on the side of the road awaiting assistance, USRider urges horse owners to begin carry two mounted spares.
"While we are able to deliver service in these situations, it is sometimes a challenge to procure the correct tire and find a service provider with the ability to mount a tire on the side of the highway. Horse owners can greatly enhance their safety and the safety of their Horses by carrying a second mounted spare," said Riss.
USRider recommends that only a qualified, trained mechanic change a tire. If, in an emergency, a non qualified individual changes the tire, the vehicle should be taken to a qualified mechanic as soon as possible to ensure that the tire is properly torqued.
When purchasing a new trailer, it would be advisable to purchase a second spare mount. For existing trailers, visit a reputable trailer dealer to discuss options for mounting a second spare.
Further Reading
Trailering Checklist
Safe Trailering
For additional safety tips, visit the Equine Travel Safety Area on the USRider website at
www.usrider.org.