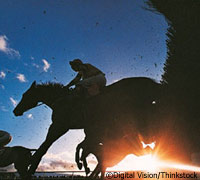 Two horses died during the Grand National race last weekend and another was fatally injured at an earlier race in the three-day Grand National meeting.
Many are outraged at the deaths and the racing community's unwillingness to make real changes to address the problem. The deaths are par for the course in the Grand National meeting, with a total of 33 equine deaths since 2000. In that time period, 2004 was the only year in which no horses died during or as a result of injuries sustained during Grand National races.
The Grand National is the main event during the three-day meeting at Aintree Racecourse near Liverpool, England. The historic steeplechase dates back to the 1830s and remains a highly popular social event despite controversy. The race consists of 30 fences ranging from 4'6″ to 5'3″ over 4 ½ miles. Forty horses started in this year's Grand National, but only 19 finished.
The first fatality in this year's race was Ornais, a nine-year-old gelding. He broke his neck after falling at the fourth fence, the lowest fence on the course at 4 feet. The second was Dooney's Gate, an Irish-bred gelding who broke his back at Becher's Brook. Becher's Brook is a notoriously difficult obstacle that is 4'10" from the front but has a 6'9″ drop on the other side.
In response to criticism, Aintree Racecourse has improved the on-site veterinary services over the past several years, and a few jumps have been modified to reduce the risk of pileups. The persistently high fatality rate still plagues the Grand National, and animal welfare activists continually call for its end. The high jumps, grueling pace and distance, and large number of horses jumping at the same time are cited as reasons for the high fatality rate.
Irish Jockey Peter Toole was seriously injured in a pre-Grand National race and was being kept in a medically-induced coma through Monday night. There is only one recorded rider death in the Grand National's history.
This year's race was won by Billabriggs with jockey Jason Maguire for owner Trevor Hemmings. Billabriggs is trained by Donald McCain.