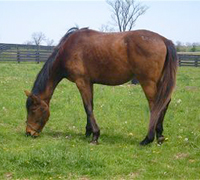 Old Friends, a retirement home for Thoroughbred racehorses, has sent out an emergency fundraising call to its supporters after a banking error resulted in a substantial bill for the Georgetown, Kentucky facility.
In an email to supporters, Old Friends founder and president Michael Blowen wrote, "About three years ago, I went to our bank and asked them to re-write our mortgage so we would have payments due biannually. They would be due after our big fundraisers in the spring and fall. They concurred and re-wrote the loan. We continued to make payments on time through our bookkeeper.
"A couple of months ago, I was visited by two bank representatives and their attorney. They explained the bank had made a clerical error. While they had re-written the loan, they had failed to increase the payments. Consequently, the bi-annual payments we made were the same monthly payments and we were in arrears for more than $200,000.
"This is humiliating. Frankly, if I had any money left, Diane and I would do it ourselves. But, we've already done that. I resolved many years ago, to not expect people to do what they could do or should do or ask them for money. Today, I'm breaking all three of those resolutions. It's frustrating because of what all these great athletes have accomplished."
Blowen, former film critic for the Boston Globe, was inspired to build a Thoroughbred retirement facility after learning about the many racehorses being sent to slaughter. When news broke that the 1986 Kentucky Derby winner, Ferdinand, had been slaughtered after his breeding career ended in Japan, it fortified Blowen's resolve to provide a home for horses that could no longer race or breed and had nowhere else to go.
Old Friends is one of the few rescue operations that will accept stallions, and as a result, several notable Thoroughbred stallions are enjoying their retirement there after their racing and breeding careers have ended. To see the current residents, click here.
To learn more, visit OldFriendsEquine.org or call 502-863-1775.