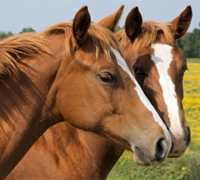 It is a disease that lurks in a horse's blood, with tiny protozoa attacking red blood cells. Equine piroplasmosis is common in tropical and sub-tropical regions of the world, including parts of Central and South America, the Caribbean, Africa, Europe, the Middle East and Asia, but is considered a foreign disease in the United States, and efforts are underway to keep it that way.
Currently racetracks in 11 states require negative piroplasmosis tests before horses are allowed onto the backside. Beginning July 1, all horses entering the grounds for any AQHA world championship show will also be required to present a negative certificate dated within six months.
"AQHA needs to be vigilant and establish testing requirements to ensure any case of equine piroplasmosis can't be traced back to an AQHA event," said Tom Persechino, AQHA executive director of competition and breed integrity. "We're encouraging all exhibitors to contact their veterinarians to schedule these tests. If the tests are completed around the second week of July, that horse will be eligible to show at the youth, select and open/amateur world without requiring another test."
Symptoms of Equine Pirpolasmosis
Equine piroplasmosis is a blood-borne protozoal infection. There are two different protozoa involved, named Babesia caballi and Theileria equi.
"The parasite attaches to the red blood cells, the body recognizes there's something wrong with that blood cell so it takes it out of circulation," explained New Mexico State Veterinarian Dr. Dave Fly. "This bug's growing on the blood cells, the spleen and liver are grabbing those blood cells trying to take them out so you go into what is called a hemolytic crisis. Animals can die, or they survive the acute phase and come out the other end as a chronic carrier."
EP is transmitted from horse to horse through blood contact.
"There are three populations of EP that we're concerned with right now in the U.S.," said Oklahoma State Veterinarian Dr. Becky Brewer-Walker. "They include the natural transmission via ticks and a small percentage of horses imported into the United States prior to changes in required testing protocol. However, the area of greatest concern is iatrogenic spread, or by people. We are seeing a spread of the disease to a large extent in Quarter Horse racehorses and some Thoroughbreds. These cases are almost all due to risky practices and poor biosecurity, disease spread horse to horse by the management of the people."
Symptoms of the disease vary widely. A case can be so mild the symptoms are never even recognized, or the horse can develop a fever and appear "off." More severe symptoms include anemia, jaundice and even death. This is why testing for the disease is so important.
If a horse is positive, the only options currently available are permanent quarantine or euthanasia. Positive horses are still allowed to be bred via artificial insemination.
Prevention of Equine Piroplasmosis
EP is easy to prevent if caution is used to prevent blood transmission between horses. Here are tips to prevent your horses from falling prey to this disease:
Use commercial products to spray for ticks around the barn and pastures and lessen the population. Inspect horses regularly for ticks to remove them before they bite.
Don't reuse needles, syringes or administration sets.
Ensure that dental floats, tattoo equipment and other common equipment that might transfer blood is scrubbed and cleaned before and after each use.
If your horse is with a trainer, make sure he or she is following proper biosecurity protocols.
Test your horses. The tests are simple blood tests, similar to a Coggins test. A test needs to be done for each protozoa, for a total of two tests. For a list of approved labs, click here.
Know the rules before you go. Before traveling, make sure you know what the testing requirements are at your destination. Don't just check a website – call for the most up-to-date information.
The United States is currently considered EP-free. Recent natural outbreaks have been thoroughly researched and controlled to prevent native tick populations from becoming a reservoir for the disease, but it is possible that, without proactive measures, the disease could gain a foothold. If that happened, and the United States were to lose its EP-free status, there would be many more testing regulations required, including for horses being exported for competition, sale or breeding. This would place an added burden on the horse industry as a whole.
AQHA and the American Quarter Horse industry has chosen to be proactive to keep the horse population healthier and make sure the disease remains foreign to the United States.
"I would like to see this go away, and I applaud the Quarter Horse industry for taking a stance," said Dr. Fly. "I do believe we're in a position where if this country takes a stand and starts looking, we can push this disease back out of this country and not let it get established. But it's going to take some work on everybody's part."
Further Reading
Florida Equine Piroplasmosis Outbreak