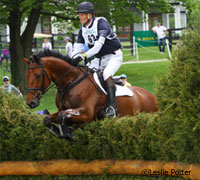 William Fox-Pitt and Cool Mountain won the 2010 Rolex Kentucky Three-Day Event. Photo: Leslie Potter
The traditional first horse inspection before dressage kicks off on Thursday for the Rolex Kentucky Three-Day event was plagued with weather-related rescheduling, but in the end all horses presented passed inspection.
After severe thunderstorms were predicted for Wednesday afternoon, the decision was made to move the first horse inspection from 3:00 p.m. to 10:00 a.m. As the morning unfolded, however, tornado warnings in and around Lexington, Ky., forced an evacuation of the stables as horses, riders and grooms bunkered down at the Alltech indoor arena.
Once the coast was clear, the jog was pushed back to 11:00 a.m., and although it begun in the rain, the sun was shining before long at the Kentucky Horse Park.
Of the 45 horses presented, all passed the inspection of the ground jury. Phillip Dutton's longtime partner TruLuck was not presented, but he still has a mount in the competition with Fernhill Eagle.
Bruce (Buck) Davidson Jr. has just returned from the Mitsubishi Motors Badminton Horse Trials, where he rode BallyNoe Castle RM to 21st place. He'll ride Titanium in Kentucky this weekend. The pair was 16th at Rolex in 2010 in the horse's first CCI4*, and Davidson is looking forward to one of his favorite events.
"It's always awesome to come to Kentucky," says Davidson. "Every year it's like Christmas Day. It's the best event we have in the United States, and one of the best in the world. The fact that I had the chance to do my first Badminton this year and then come here is pretty special. These are two really nice horses."
Both events are part of the Rolex Grand Slam of Eventing which also includes the Land Rover Burghley Horse Trials. Any rider who wins all three events in succession takes a $350,000 bonus for their achievement. Eventing legend Mark Todd (New Zealand), the winner from Badminton last weekend with NZB Land Vision, also made the trip from Great Britain after Badminton ended on Monday to attempt to win the second leg in Kentucky. He will ride Grass Valley this week.
Defending Rolex champion William Fox-Pitt of Great Britain is back. His 2011 mount, Neuf de Couers, will be contesting his first CCI4* in Kentucky, similar to Fox-Pitt's winning mount from 2010, Cool Mountain.
Dressage gets underway on Thursday at 10:00 a.m. Allison Springer will lead off with the first of her two horses, Arthur.
Ride times are available at www.rk3de.com
Watch the competition live (and free) at USEFNetwork.com NBC has announced that it will broadcast live coverage of the show jumping phase along with highlights of previous days on Sunday, May 1 at 2:00pm EDT.