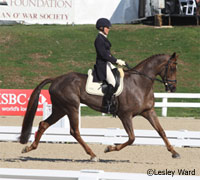 Allison Springer and Arthur are in the lead after day one of dressage. Photo: Lesley Ward
Sunshine and pleasantly cool temperatures in the 60s were a welcome relief from Wednesday's thunderstorms and and tornado warnings. A small crowd peppered the vast grandstands as Allison Springer and Arthur were first into the ring on Thursday. Always a formidable pair in dressage, they did not disappoint, scoring a 42.3 that could not be caught the rest of the day.
After 22 horses finished their tests on Thursday, veteran Olympic rider Mary King of Great Britain aboard her homebred gelding, Kings Temptress, found herself in second place on a score of 47.7. In third were Will Coleman and Twizzel with 48.2.
Springer was happy with her test, although she had hoped to score even better. "Arthur is a quirky, spooky horse, and I've been working really hard to ride him better. Going first is not ideal at all, but going on Thursday [as opposed to the second half of the dressage tests still to come on Friday], it's a little quieter. I wanted a 36 or 37, and I know we're going to do that someday."
Mary King of Great Britain is in second place with her homebred Kings Temptress. Photo: Lesley Ward
When asked about how she thought the torrential rains throughout the past days and weeks would affect the footing for cross-country on Saturday, Springer didn't seem concerned. "A couple of years ago we had quite a bit of rain before cross-country, but after a few dry days the ground was actually hard. I think this ground can take the water. The riders like the ground harder, but horses like it a little softer."
This year will mark the first time the cross-country course has been designed entirely by Derek di Grazia, although di Grazia worked for years under previous designer Michael Etherington-Smith. Springer seemed eager to take on the course. "Derek did a phenomenal job. It's a great four-star course with some great galloping jumps. I'm going to ride every single fence though; you can't let up and let something silly happen."
Springer's second mount in the competition, Destination Known, will ride dressage on Friday. While Arthur has been to Rolex multiple times, this will be Destination Known's first four-star. Also to ride on Friday will be Karen O'Connor on Quintus 54; last week's Badminton champion, the legendary Mark Todd of New Zealand, aboard Grass Valley; last year's Rolex winner, William Fox-Pitt of Great Britain, on Neuf des Coeurs; and Buck Davidson aboard Titanium. Needless to say, there is sure to be a shakeup in the scores before dressage concludes on Friday afternoon.
More Rolex Coverage
45 horses set to start in the 2011 Rolex Kentucky Three-Day Event