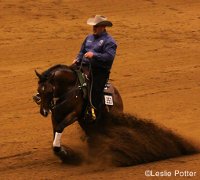 Shawn Flarida won the individual first place in the Kentucky Cup Reining. Photo: Leslie Potter
The atmosphere at the Kentucky Horse Park made a 180 as the dressage phase of the 2011 Rolex Kentucky Three-Day Event wound down and the noise level was turned up several notches for the Kentucky Reining Cup in the Alltech Arena. As a mix of country music, classic rock and 80s hits reverberated throughout the arena, the audience whooped and hollered for some of the world's top reining competitors vying for $50,000. In the end, the top four positions were filled by a few familiar faces, rekindling memories of the 2010 Alltech FEI World Equestrian Games (WEG).
Shawn Flarida, the National Reining Horse Association's only Four Million Dollar Rider and all-time leading money earner, took first place with a score of 226.5 on KR Lil Conquistador, a horse he's been riding since the now 8-year-old gelding was two.
"He's a great horse," said Flarida, who attributes his success to the horses he works with. "If he was a human being, he'd be my best friend right behind my wife."
Flarida's fellow 2010 WEG gold medal-winning teammates Craig Schmersal and Tom McCutcheon rounded out the top four, with Schmersal claiming second and third places on Miss Lil Addy Tude (225) and Mister Montana Nic (224.5), respectively. While the latter is a veteran in the international reining arena, and was Schmersal's individual silver medal-winning mount at the WEG last fall, the sorrel mare Miss Lil Addy Tude is a fairly new partner for Schmersal.
"Today was the fifth time I've ridden that mare, and I couldn't be more happy with her," he said. "I'm thrilled with her. She showed really good. And then Mister Montana Nic is unbelievable. I'm extremely happy with him."
McCutcheon, who won the individual gold medal at the 2010 WEG on Gunners Special Nite, scored a 222.5 on Chic Olena Starbuck to finish fourth. When asked how it felt to return to the Alltech Arena, the site of the 2010 WEG reining competition, he said, "It feels great. I love this place. I love Lexington. I love Kentucky. This building is awesome. I love coming back here. It's a big deal for us. For reining in general, it's great to get into this venue. We're all glad we got invited and could be part of it."
The Clark Oil team of Mandy McCutcheon, Sam Smith and Tim McQuay won first place in the team competiton. Photo: Leslie Potter
"It brings back a lot of good memories," added Schmersal. "I couldn't be happier to be here. I'm thrilled that Rolex let us come in and do our deal. It's a great facility, with first-class people all the way around. It's always a pleasure to come back here."
Country music singer Lyle Lovett was among the reining celebrities in the five-star event. Lovett grew up in the running Quarter Horse world and has been riding and competing in reining since attending a competition as a spectator 10 years ago and becoming hooked on the sport. In comparing reining competition to the country music industry, Lovett said, "It's very similar because even though it's a competition … the team spirit among the competitors is just incredible. To watch them back in the barn and the warm-up pen helping one another, you know they're all friends and associates. Nobody in reining likes anything better than to see a great run, and when somebody's having a great run, everybody in the stands and everybody in the barn is cheering for that rider and for that run."
The CRI5* Kentucky Reining Cup represented the highest level of competition in the sport and is the only five-star event to be held in the western hemisphere this year. Saturday's freestyle competition will crown its first-ever world champion and award $25,000 in prize money, the largest purse for a reining freestyle anywhere in the world. The fun starts at 5:30 p.m. in the Alltech Arena. For more information and full results from the Kentucky Reining Cup, visit www.kentuckyreining.com.
More Kentucky Reining Cup Coverage
Inaugural Kentucky Reining Cup at Rolex