American Tiana Coudray and Ringwood Magister are in the lead after the dressage phase of the Rolex Kentucky Three-Day Event. Photo: Lesley Ward
It was the "day of the grays" on Friday as the second half of dressage unfolded at the Rolex Kentucky Three-Day Event. Thursday's leader, Allison Springer, moved down to third as Tiana Coudray and her stunning dapple gray Irish Sport Horse, Ringwood Magister, topped Friday's dressage with a score of 40.8.
Another flashy dapple gray, Fernhill Uroco, moved into second place later in the day with a score of 41.7. The Portugese-bred warmblood was British rider Mary King's second mount, putting her into second and forth place after dressage.
Coudray was a bit worried about how her test would go when she came down the ramp in front of the grandstand. "[Ringwood Magister] had been really good in warmup, but when I came in, there was a big round of applause for the previous pair. He started bucking and cantering on the spot–I wasn't sure which way it was going to go, but he got it together and went to work when we went in the ring. Coming down the centerline at the end, it hit me that he had a very good test."
The competitors are not content to relax now that dressage is over, however. "I'm really excited about cross-country at this point," said Coudray. "But [course designer] Derek di Grazia catches you out for not respecting things enough, and the [rain-soaked] footing is going to be a question, especially for the horses later on. I just need to treat it like it's not as nice as it looks."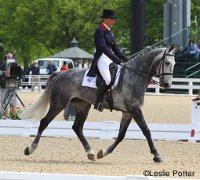 Mary King of Great Britain and her second mount, Fernhill Uroco, are in second place heading into cross-country. Photo: Leslie Potter
King, although a veteran rider, seemed a bit surprised but very pleased with Fernhill Uroco for his standout performance on Friday. "I wasn't quite expecting such a good test, although he's really improved in the last month or so. He's a positive-thinking horse but strong; whether you're leading him or riding him, he's on a mission. But he's got a calm temperament despite being forward-thinking. My dressage trainer lent me a double bridle recently, and suddenly he respected the bit, and I could ride him forward and work on his engagement."
The change in tack certainly paid off on the big stage, but King is also not content to rest on her laurels going into cross-country. "He's a chunky horse, and he's going to find the course quite long. He wasn't bred to be an event horse, but he'll give it a go anyway! l hope the footing doesn't take away from how lovely the fences are; it's all very jumpable, but still a real four-star course with one question after another. The ground conditions will be one of the main tests, however."
An interesting point to note at this year's Rolex Kentucky Three-Day Event was the increase in helmets in dressage. Last year Allison Springer was the only rider to forgo the traditional top hat in favor of an approved helmet; this year, the percentage was closer to half of the riders, especially among the Americans.
Cross-country will run from 10:00 a.m. to 3:10 p.m. Eastern time on Saturday; watch live at USEFNetwork.com
For more information and complete scores, go to www.rk3de.org
More Rolex Coverage
Allison Springer is in the lead after day one of dressage
45 horses set to start in the 2011 Rolex Kentucky Three-Day Event