Mary King and King's Temptress won the 2011 Rolex Kentucky Three-Day Event. Photo: Leslie Potter
Coming into the final show jumping phase of the Rolex Kentucky Three-Day Event, Mary King of Great Britain had the enviable advantage of having horses in both first and second place. Showing incredible composure, King jumped double-clear with both of them, guaranteeing herself the top two spots in the event for some handsome prize money and a Rolex watch.
"I always feel with three-day events that the big day is cross-country, and on the final day [of show jumping], whatever will be will be," said King. "You have to ride each fence and forget about the crowd, and hope that your horse will pick up its feet." Her homebred mare, Kings Temptress, jumped ahead of Fernhill Urco in the placings after pulling off one of only three double-clear cross-country rounds on Saturday. Kings Tempress and Jessica Phoenix's Exponential were the only two horses to finish the event on their dressage score.
There were many gasps from the crowd as King jumped for the win on her top-placed horse. "You can see that [Kings Temptress] has unusual form," she joked after her round. "I felt like I was going to come off a couple of times! But she wants to do it; she really tries her heart out."
Australia's Clayton Fredericks had one rail down, dropping him from third to fifth place, allowing American rider Sinead Halpin to take third after a double-clear round on Manoir de Carneville. It was the first four-star for both horse and rider. "My horse bucked during the [second horse inspection Sunday morning]; he's so proud of himself," said Halpin. "He was tired walking to the arena [for show jumping], but walking to the arena he heard clapping, and I knew it would pick him up. He doesn't get nervous, just excited."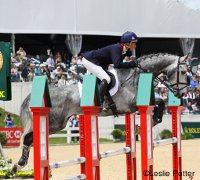 Mary King placed second with her second mount, Fernhill Urco.
Photo: Leslie Potter
Moving up from sixth to fourth after a double-clear show jumping round aboard Neuf des Coeurs was last year's Rolex-winning rider, William Fox-Pitt of Great Britain. (Don't worry, neither he nor Mary King missed the royal wedding of Prince William and Kate Middleton–both admitted to setting their alarms early Friday morning to watch the telecast.)
The sacrifice of coming across the Atlantic to compete paid off, even though his mount was inexperienced at this level. "It was [Neuf des Coeurs]' first four-star, and you never know going into that arena with so much to look at what he might do," said Fox-Pitt. "But he's improving all the time. I was optimistic he would try his best, and he really did."
Although it was a British invasion at Rolex, the crowd enjoyed the warm sun and heartily applauded each rider throughout show jumping, especially those with double-clear rounds. Only one year before we can do it all again!
Rolex Kentucky final top 10:
Mary King (GBR), Kings Temptress, 47.7
Mary King (GBR), Fernhill Urco, 49.7
Sinead Halpin (USA), Manoir de Carneville, 53.1
William Fox-Pitt (GBR), Neuf des Coeurs, 54.0
Clayton Fredericks (AUS), Be My Guest, 57.0
Oliver Townend (GBR), ODT Sonas Rovatio, 58.2
Jessica Phoenix (CAN), Exponential, 60.0
Hannah Sue Burnett (USA), St. Barths, 61.3
Boyd Martin (USA), Remington XXV, 61.4
Rebecca Howard (CAN), Riddle Master, 68.5
More Rolex Coverage
Mary King of Great Britain is in first and second after Rolex Cross-Country
Tiana Coudray takes the lead at the Rolex Kentucky Three-Day Event
Allison Springer is in the lead after day one of dressage
45 horses set to start in the 2011 Rolex Kentucky Three-Day Event