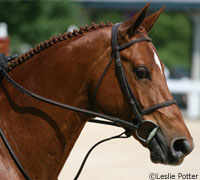 Let the horses inspire you! The Washington International Horse Show (WIHS), the leading indoor equestrian event in the U.S., is seeking an original poster design for its 53rd annual event, to be held Oct. 25-30, 2011, at Verizon Center in Washington, D.C. The six-day equine extravaganza features the country's leading horses and riders in exciting jumping competition.
The poster contest is open to U.S.-based artists, both amateur and professional, 18 years and older. A maximum of three entries per artist will be accepted. There is no entry fee. The work submitted must be original and may be in any medium suitable for duplicating on posters and souvenir merchandise. The deadline for entries is 4 p.m., Monday, May 31, 2011.
Entries should be inspired by the WIHS and reflect an equestrian or horse theme. Artists also should consider the event's longstanding ties to Washington, DC.
2010 Washington International Horse Show poster design
The winning design will be selected by a panel of judges and will be used to promote the 2011 horse show. The winning artist will receive significant publicity, 100 posters and a package of all other items produced with the winning design, four week-long passes to the show and the option to have a vendor booth during the show. The artist retains the original artwork.
Virginia artist Dagmar Cosby was the winner of the inaugural poster contest in 2010. Previous poster designers include well-known illustrator Mickey Paraskevas (2009), NY; Jane Gaston (1999-2008), VA; and iconic 1960s artist Peter Max (1981). For complete contest rules, entry blank and a sampling of some of the wonderful WIHS posters from past years, visit www.wihs.org/poster-contest.
About the Washington International Horse Show (WIHS)
An equestrian tradition since 1958, the Washington International Horse Show brings top horses and riders from the U.S. and abroad, including Olympic champions, to the nation's capital to compete for more than $400,000 in prize money and championship titles. More than 500 horses participate in show jumping, hunter and equitation events during the six-day show. Special exhibitions, boutique shopping and educational and community events round out this family-friendly show. Since its debut, WIHS has been a popular Washington, DC, fixture visited by presidents, first ladies, celebrities, business and military leaders, as well as countless horse enthusiasts of all ages. WIHS, a 501(c)(3) nonprofit, charitable organization, is headquartered in Washington, DC. For more information, visit www.wihs.org