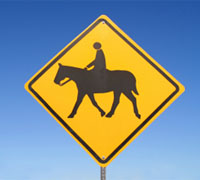 Today, the bridle paths of Central Park in Manhattan are used primarily by walkers and joggers, but soon they may return, at least in part, to their originally intended purpose.
New York City's Department of Parks and Recreation announced that they will be accepting proposals to open and operate a horseback riding program in Central Park. The future riding center's location is near the existing North Meadow Recreation Center.
Until 2007, riding lessons and public trail rides were available in Central Park through the historic Claremont Riding Academy. Since Claremont's closure, trail rides through the park have been offered by appointment through Riverdale Equestrian Center, the Bronx stable owned by Olympic dressage rider Ashley Holzer. However, the city would like to have a more consistent program set up shop.
Proposals for the park may include guided trail rides, rental horses and/or a riding academy.
A new equestrian program in the city will have to contend with some difficulties. In recent years, animal welfare groups, some New Yorkers and a handful of celebrities have spoken out against the use of carriage horses in Central Park. With the announcement of a planned riding center, some of those same criticisms are now targeted at recreational riding in the park.
Edita Birnkrant of advocacy group Friends of Animals was quoted in the Wall Street Journal as saying that horses don't belong in an "urban, chaotic environment. It's stressful and dangerous for both the horses and the public."
The wide use of the bridle paths by joggers and walkers, many with strollers and dogs, means that trail riders in Central Park will have to contend with the same land use issues that plague many mixed-use trails but on an even bigger scale due to the heavy recreational use of the park.
Still, many New Yorkers are happy to hear the news that recreational horseback riding may return to Manhattan, including Claremont Riding Academy's former owner, Paul Novograd.
"The loss of the last stable in Manhattan was a tremendous loss of an amenity and a diminishment of the quality of life in New York and Central Park," he said in the Wall Street Journal. "The park is lonely without horses and it would be great to have 'em back."