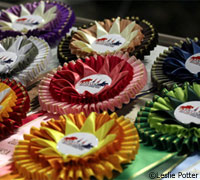 The best college riders from around the U.S. and Canada completed their season last weekend at the Intercollegiate Horse Show Association (IHSA) National Championship in Lexington, Ky. Team and individual champions for hunt seat and western riding were crowned at the event which took place from May 5-8 at the Kentucky Horse Park.
In IHSA competition, riders are mounted on horses provided by the host school, so each rider is competing on a horse unfamiliar to her. Because the national championship is not hosted by a single school, many of the competing teams bring horses to be used in competition. Competitors draw horses and are not permitted to ride horses they have ridden before and have no warm up before entering the arena.
English riders competed in hunt seat on the flat and over fences. Each team sends one rider for each level of competition. For individuals, the greatest achievement in the IHSA is the USEF Cacchione Cup, named for IHSA founder Bob Cacchione. This year's winner was Marissa Cohen, a senior from Centenary College.
Centenary College, located in Hackettstown, NJ, also took the team hunt seat championship. Centenary's team is coached by Michael Dowling and Heather Clark. Skidmore University and St. Lawrence University, both located in New York state, tied for the reserve championship in the team standings.
On the western side, Berry College of northwest Georgia brought home the team championship with proud coach Margaret Knight. One Berry Rider, Alexandra Jones, was second in the AQHA High Point Western Rider standings. Rebekah Irish of Illinois' Black Hawk College earned top honors in that division. Irish also came in first in the Open Individual Reining. The team from Oregon State University earned the reserve western team championship.
IHSA equestrian teams are currently operating at 376 schools in the United States and Canada. Riders are not required to own a horse and all ability levels are welcome, from walk and trot or jog only to 3'3″ hunt seat equitation and advanced reining. To learn more, visit ihsainc.com
To find colleges and universities with equestrian programs, click here.