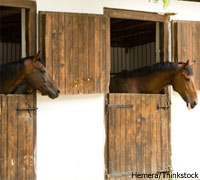 UPDATE 6/29/11: The USDA has issued its final situation report on June 23, 2011. The outbreak has been contained. Click here to read more.
ORIGINAL ARTICLE
:
As of noon EST on May 20, 2011 cases of Equine Herpesvirus Myeloencephalopathy (EHM) have been confirmed in eight states and in Canada. EHM is the neurological form of
Equine Herpesvirus (EHV-1)
. Please use the state veterinarian in your state as a resource for information and guidance regarding this disease.
Please see the USDA situation report for updated information
Affected States' State Veterinarian Contact Information:
California: http://www.cdfa.ca.gov/ahfss/animal_health/equine_herpes_virus.html

Phone: (916) 654-1447
Colorado: http://www.colorado.gov/cs/Satellite/Agriculture-Main/CDAG/1167928197091

Phone: (303) 239-4161
Idaho: http://www.agri.state.id.us/Categories/Animals/animalHealth/healthehv.php

Phone: (208) 332-8544
Oregon: http://www.oregon.gov/ODA/__news_449105797.shtml

Phone: (503) 986-4680
New Mexico: http://www.nmbvm.org/

Phone: (505) 841-6161
Texas: http://www.tahc.state.tx.us/
Utah: http://ag.utah.gov/news/EquineHerpesOutbreak.html

Phone: (801) 538-7162
Washington: http://agr.wa.gov/FoodAnimal/AnimalHealth/HotTopics.aspx

Phone: (360) 902-1881, (360) 902-1835
Additional Resources:
The United States Department of Agriculture (USDA) situation report, guidance document & new AAEP resources for horse owners is now available.
The USDA:APHIS:VS has recently posted on its website 2011 EHV-1/EHM incident information, including situation reports (listings of suspect and confirmed cases, locations, etc), recommendations for exposed horses and more here: http://www.aphis.usda.gov/vs/nahss/equine/ehv/. Please check this website weekly for updated situation reports.
In addition, the AAEP now has an updated web page for horse owners with a very informative FAQ targeted for horse owners located here: http://www.aaep.org/EHV_resourcesowner.htm.
Recommendations for show and event managers from UC Davis: http://www.vetmed.ucdavis.edu/whatsnew/article.cfm?id=2397
American Horse Council: http://www.horsecouncil.org.
Please refer back to these resources frequently to ensure you have the most current information.