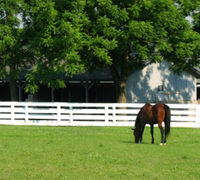 The Thoroughbred Retirement Foundation (TRF) is proud to announce the formation of the National Equine Veterinary Alliance, consisting of professionals who have agreed to provide pro bono veterinary care to Thoroughbred ex-racehorses from non-profit organizations that have been registered with, and approved by, the TRF.
The issue of Thoroughbred retirement remains a major area of concern to racing supporters, and the industry's inability to get a handle on it is a frequent source of sharp criticism from the public. The Alliance's mission is to promote a beneficial and cooperative outreach program to the rescue/adoption organizations providing aftercare to these deserving ex-racers.
Patricia Hogan, VMD, of Cream Ridge, NJ, is a TRF board member and chairman of its Veterinary Liaison Committee. "Rescue and adoption organizations are doing all that they can but are strictly limited in most cases to private monetary donations, and the goodwill of local veterinarians and vendors," said Hogan. "The TRF would like to bring some structure and organization to this problem, provide an avenue for veterinary assistance for these organizations, and at the same time, shine a positive light on the veterinary professionals already working hard to help transition these horses."
Hogan herself is a renowned equine orthopedic surgeon who has cared for some of the top racehorses in the country, including Smarty Jones. "I have thought about such a program for many years, and I am thrilled that an institution like TRF is implementing this cooperative concept of 'giving' to the horses on a national basis."
The primary role of the TRF is that of organizer of the national program, and to act as a liaison between approved rescue/adoption groups and cooperating veterinary practices. The criteria for being an "approved" group in this program considers many factors such as reputation, registered 501(c)3 status, and dedication to transitioning Thoroughbred racehorses exclusively.
The other responsibility of the TRF is the promotion of the works of the Alliance. "Many veterinarians already contribute tirelessly to this cause without industry recognition," Hogan explained. "Highlighting these works will serve to promote more awareness of the issue of Thoroughbred retirement, shine a spotlight on the veterinarians' contributions to this cause, and showcase the good work that many independent organizations are doing to transition these horses into productive second careers."
For more information about TRF's National Equine Veterinary Alliance, contact Matthew Williams, MWilliams@thoroughbredretirement.org, (859) 246-3080.