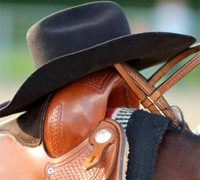 The Western States Horse Expo is proud to announce that its thirteenth presentation of the event will be the best ever. In light of the recent concern about Equine Herpesvirus, the event management has taken extraordinary measures to protect the horses that will appear at Cal Expo, Sacramento, June 10-12, 2011.
"We have been in constant contact with the California Department of Food and Agriculture during this time," comments Miki Cohen, founder and president of WSHE. "We even arranged for Dr. Kent Fowler of the CDFA to appear on television news to explain this disease and report on the number of horses it has impacted. It's important to note that the CDFA has not recommended that any equine-related event be canceled. We have also monitored how other organizations are dealing with this concern, and have taken note that the National Reining Horse Association and the National Reined Cow Horse Association — two groups who put on a number of competitions like our Magnificent 7 — are not recommending that any event be canceled."
The permanent barns at Cal Expo are being disinfected according to the guidelines put forth by CDFA, and the temporary stalls that are brought in for the event have not had any horses in them for over six months. However, those stalls will also be disinfected.
"We will have a veterinarian on-site the entire time," continues Cohen. "And each horse will be looked at by a veterinarian on a regular schedule each day. The veterinarians will also use a temperature chart on the front of each stall as recommended by California Department of Food and Agriculture."
As of May 27, there have been no new cases reported for five days, according to the CDFA, and the count in the state of California remains at 18. All 18 cases are directly related to horses who were at the National Cutting Horse Association's Western National Championships (NCHA) held at the Golden Spike Event Center in Ogden, Utah from April 30 to May 8, 2011 and the Kern County Cutting Event in Bakersfield, California on May 13, 2011. CDFA has quarantined all 18 infected horses.
To put those numbers in perspective, according to the American Horse Council, California is home to over 700,000 horses.
Dave Hammond, who runs the Horse Sale at the Expo, reports that 115 performance horses will be at the sale, with all horses available for viewing on Friday, June 10, followed by the sale on Saturday, June 11 starting at 3:00 p.m. in the Wrangler Arena. These top-quality horses include Richard Winters' 2007 gelding that was his colt in the "Road To The Horse" competition in 2010.
"All our clinicians are bringing their horses as planned; even Jonathan Field is bringing his top horses from Canada. The Magnificent 7 competitors are bringing their horses to compete in this world-renowned stock horse event, and the breeds will bring their finest to display," states Cohen.
"Even if the government mandated that no horses were to be transported anywhere for a certain amount of time," says Cohen, "the Horse Expo would proudly continue. This event brings such a variety of speakers, educational topics, a trail symposium, equine health topics, breeding information, availability of state-of-the-art equipment, trailers, trucks — the Horse Expo will always happen!"
Management of the Western States Horse Expo is taking every measure possible to insure the health and welfare of these magnificent animals as they bring the Expo audience the thrill of competition, knowledge through education, admiration through breed displays, availability of purchase, and of course, the heartfelt fun of watching a young child fingerpaint a gray horse.
For more information regarding the 13th annual Western States Horse Expo, visit www.horsexpo.com.