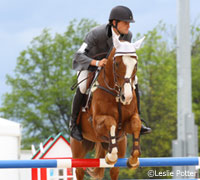 Boyd Martin shown here with Neville Bardos at the 2010 Rolex Kentucky Three-Day Event. Neville Bardos is one of the horses that was rescued from the barn fire. Photo: Leslie Potter
A midnight fire destroyed a barn at Phillip Dutton's True Prospect Farm in Pennsylvania. The barn was rented by fellow U.S. Eventing Team member Boyd Martin and housed 11 horses in training with Martin. Six of the horses perished in the fire.
According to a report on the blog Eventing Nation, Martin's groom Lillian Heard smelled smoke in the middle of the night and sounded the alarm. Members of Martin and Dutton's teams worked to rescue the horses as quickly as possible and managed to save five of them including Neville Bardos, Martin's mount from the
2010 Alltech FEI World Equestrian Games
. The grooms who went into the burning barn were treated at a local hospital and released.
The cause of the fire is unknown, but early reports suggest it was an electrical fire.
The following statement was posted on Martin's blog on Tuesday morning.
As many of you have already heard thanks to excellent reporting from John Thier at EventingNation.com and the folks at PRO, last night there was a barn fire at True Prospect Farm.

Six horses were lost in the fire: Call Me Ollie, Charla, Ariel, Phantom Pursuit, Cagney Herself, and Summer Breeze.

Currently undergoing treatment at New Bolton Center are Neville Bardos, Otis Barbotiere, Catch a Star and Ambassador's Rose.

Lillian, Caitlin and Ryan were treated and released from Jennersville Hospital.

Obviously this is a difficult time, and our deepest condolences go out to everyone connected with these horses. We are grateful for your thoughts and prayers and all of the messages and well wishes that we have been receiving from the eventing community. We will keep you updated as we receive more information.
To learn more about recovery efforts for those connected with True Prospect Farm, visit www.phillipdutton.com/donatenow.php or Boyd Martin's blog.
To read more about the horses lost in the fire, visit EventingNation.com
Further Reading
Stop a barn fire before it starts
Be prepared for a barn fire
Extinguish the threat of barn fires