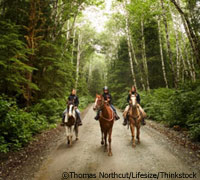 This Saturday is the 19th annual National Trails Day, and all equestrians, hikers, and outdoor enthusiasts are encouraged to get outside and celebrate. The day is spearheaded by the American Hiking Society, but all non-motorized trail activities can be included as recognized NTD events.
National Trails Day was created to inspire Americans to discover and enjoy outdoor activities. Since its inception in 1993, it has spread to include events in Canada and the United Kingdom.
Why Trail Ride?
Studies have shown that being outdoors, particularly in green environments, can improve a person's mental health, mood, and physical condition.
Getting out of the arena and taking a break from schooling is good for your horse's mental health, too. Taking a trail ride can combat boredom and ring-sourness and increase your horse's fitness by adding hill work and natural obstacles to your ride.
Time on the trail could be a healing agent. Researchers have found that children with ADHD are able to focus better after spending time outdoors in the wilderness, moreso than when spending time outdoors in green, natural environments than in cities or residential neighborhoods. Other studies have shown that surgery patients recover faster and with less pain if they have more exposure to natural light.
While hikers, cyclists and equestrians may not always get along on mixed use trails, all three groups share a common goal: Preserving wilderness and public access to wild lands. Coming together to maintain trails and preserve natural landscapes today means there will still be somewhere to ride tomorrow.
Tips for Trail Riding
These articles can help you plan a successful trail ride.
Ultralight Horse Packing
Take leave-no-trace camping trips easily with these ultralight horse packing techniques.
Evaluating Equine Fitness
If you plan to take your horse with you on vacation–camping and trail riding–make sure he's fit to go.
30 Tips for Better Trail Riding
Improve your trail rides with our best collection of tips.
Finding your Perfect Trail Horse
Advice for finding your perfect trail match.
Barn Sour Behavior
Follow these tips for handling barn sour behavior on the trail.
Organized events to mark National Trails Day are planned across the United States. Visit americanhiking.org/ntd.aspx to find one near you.