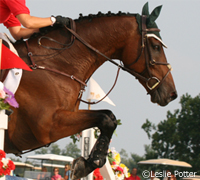 Since 1853, equestrians, horse breeders and spectators have gathered under the Grafton oaks in Upperville, VA, to admire some of the nation's most talented horses and riders. The Upperville Colt & Horse Show (UCHS) is the oldest horse show in America. It was founded to encourage better breeding of horses.
The one-day show, which began with a few breeding classes, has grown into a week-long tradition with classes for children, adults and families. Each year beneath the oaks at Grafton Farm, more than 2,000 horse and rider combinations compete throughout the week. The show raises funds for the Upperville Volunteer Fire Department and other area charities.
Once again, the event will recognize outstanding individuals and horses that have contributed to the UCHS goals through participation, horsemanship, leadership or service. Individuals and horses will be named to the Wall of Honor that remains on display on the show grounds during the entire event. The wall itself was made from a fallen oak tree from the show grounds property. "This is our opportunity to recognize the many individuals and horses who have made this unique event so spectacular," states Tommy Jones, the show's organizer.
The 158th Upperville Colt & Horse Show takes place June 6-12. The week culminates with the $100,000 Upperville Jumper Classic, which draws top riders from across the nation. The Jumper Classic will be held on Sunday, June 12, at 2:30 p.m.
Prior to the Jumper Classic, the Pedigree Country Fair will take place on Sunday from 11 a.m. to 2 p.m. with pony rides and games for the kids. Other entertaining events include the Jack Russell Terrier races, Basset Hound demonstrations, and horse drawn carriages. Plan to bring the family, be entertained, browse and shop the food and retail vendors – just spend the day in some of Virginia's most beautiful countryside.
Gates open at 8 am throughout the week. Admission is $10 per person. Children under 12 are free when accompanied by an adult. Classes throughout the week are fun to watch especially the Ladies Side Saddle and young children's classes on Saturday. Bring a picnic or purchase food on the grounds. A variety of food vendors and retailers will be on site.
Viewers can also catch the excitement via a live webcast of the hunter and jumper rings. Classes will start each day at 8 a.m. and continue through 5 p.m.
To get there, from Washington, DC take I-66 west to Route 50 West (Exit 57B) toward Winchester, Va. Drive approximately 25 miles to Middleburg and continue on Route 50 to Upperville and the show grounds. Also located just 30 minutes from Dulles International Airport. Take Route 28 from the airport to Route 50 west and follow as above. Follow signs for parking. For information, call 540-687-5740 or 540-592-3858.
For complete schedules and up-to-the-minute results, visit the web site at www.upperville.com. The Upperville Colt and Horse Show is a 501(c)3 charitable organization