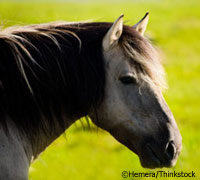 On Friday, June 3, wild horse advocate Madeleine Pickens announced that the first group of wild horses had arrived at the Mustang Monument Wild Horse Eco-Preserve. These horses are part of a pilot program where 1,000 horses managed by the Bureau of Land Management (BLM) will be moved to the sanctuary.
Pickens has been a longtime advocate for animal welfare. After learning that many racehorses were being killed in slaughterhouses after their racing days were over, Pickens and her husband, billionaire T. Boone Pickens worked to end horse slaughter. In 2008, Mrs. Pickens approached the BLM with the intent to create a sanctuary to house
Mustangs
that had been rounded up and removed from public land. Finally, in fall of 2010, the
BLM agreed to support
a pilot program for Pickens' sanctuary.
The first horses arrive at Madeleine Pickens' Mustang Monument
The sanctuary covers more than 500,000 acres, according to Pickens' website, and is located near Elko, Nev. Earlier this month, the first group of horses, all mares and foals, was trucked in and let loose at the Mustang Monument.
Pickens hopes that her sanctuary will ultimately become a tourist destination and educational opportunity for Americans. Under her original plan, visitors would be able to camp and hike in the sanctuary and see the Mustangs in their natural habitat. For now, she is just happy to see horses at home at the Mustang Monument.
"I cannot aptly describe the experience, but this is definitely a mission driven by God," she said on her website. "He has blessed us all with this wonderful gift…We are so lucky. I am so lucky. I've been surrounded by so many supporters and friends and I can't thank you all enough. I am overwhelmed, speechless, and very fulfilled. It's a new beginning."