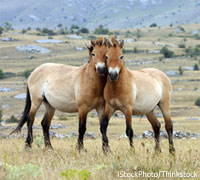 Four young Przewalski horses bred in captivity in the Czech Republic have been reintroduced to their native habitat in Mongolia. They will join more than 20 other horses previously reintroduced in the western Mongolian reserve of Khomiin Tal. The new herd members are Kordula, Cassovia and Lima, all mares, and one stallion called Matyáš.
Przewalski horses are native to the steppes, or grassy plains, of Mongolia. They are said to be the only truly wild horses as they have never been domesticated as opposed to American Mustangs and Australian Brumbies whose ancestors are believed to be feral. Przewalskis became extinct in the wild in the early 1970s due to mass hunting and spreading agriculture taking over the wild horses' grazing land. Dedicated preservationists kept records on the horses kept in captivity and in the early 1990s, began the reintroduction process.
The first horses were brought in from the Netherlands in 1992. They were kept in acclimatization areas for the first two years while they learned how to live with the new climate and vegetation and created strong herd structures.
The four horses from Prague made the 3,700-mile, 17-hour journey in a military aircraft and will make the the final 170 miles to the Hustai Nuruu nature reserve on the road in a trailer. They will be kept in the acclimatization area and observed as they adapt to their new home.
For photos and more information about the horses, visit the Prague Zoo's website at zoopraha.cz/en