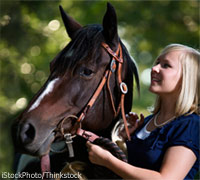 The focus is on the youth at the 2011 American Junior Paint Horse Association (AjPHA) Youth
World Championship Show June 24 – July 2 in Fort Worth. The AjPHA Youth World Show will
showcase the talent of both the Paint Horse breed and the young people who exhibit them with
73 world-title classes in a full array of disciplines, in addition to a handful of assorted
other classes specifically for the youth competitors.
The fun begins as youth from across the country converge to compete for world championship
titles, share in common experiences, and make memories with nine full days of horse show
classes and a large array of other youth activities. The Association has received 1,284 class
entries to date.
World championship titles will be awarded in a full gamut of classes: leadline, walk-trot,
halter, showmanship, English performance classes, Western performance classes, speed events
and cattle events. APHA has added Novice Youth Hunt Seat Equitation Over Fences to the lineup
and reining classes are dual-approved by the National Reining Horse Association (NRHA). The
only youth class that will not be held at the summer event is youth cutting, which will be
held in conjunction with the remainder of the cutting classes this fall at the Open & Amateur
World Championship Paint Horse Show, November 2-12.
Outside of the Youth World Show most specialty events held for speed classes and ropers are
"pay out" events – meaning that the top-placing finishers receive cash payouts instead of
points. With that in mind, the Youth World Show this year will offer "jackpots" in the speed
and roping classes so that participants who opt in by paying a separate $25 entry fee will be
in the running for cash payout, in addition to the traditional breed registry points and
prizes.
The fastest overall times in each class (regardless of division) will be eligible for the
jackpot payouts. The classes included in the jackpot option include: Barrel Racing (Novice
Youth 18 & Under, Youth 13 & Under, Youth 14-18); Pole Bending (Novice Youth 18 & Under, Youth
13 & Under, Youth 14-18); Heading (Youth 18 & Under); Heeling (Youth 18 & Under); Steer
Stopping (Youth 18 & Under); Breakaway Roping (Youth 18 & Under).
More than a horse show
The Youth World Show is more than a horse show – with dozens of activities planned that don't
require a horse to be involved.
Youth Boot Camp
Designed to give those youth competing at the World Show who don't have the opportunity to
work with a trainer a chance to receive hands-on instruction from industry professionals in
preparation for the World Show experience. APHA professionals will assist the youth with
feedback and helpful hints for horsemanship, equitation and showmanship.
AjPHA Year-End Awards Banquet
Before World Show classes begin, AjPHA recognizes the top youth competitors for their 2010
year-end achievements at the AjPHA Year-End Banquet & Dinner on Friday, June 24. Advance
tickets required.
Paint For A Day Youth Open All-Breed Show
We "zing the bling" and make it fun at Paint For A Day on Saturday, June 25. All breeds of
horses are welcome, and each entrant receives a free AjPHA membership. All will have a great
day of learning about the Paint Horse industry, making new friends and being able to show
their horse. Plus, you'll get a chance to take in the sights and sounds of a World
Championship Paint Horse Show.
Hart Youth Horse Judging Contest
One of the largest competitions of its kind, the AjPHA Judging Contest will be held on
Sunday, June 26. Individuals and teams can compete in two age divisions (13 & Under or 14-19)
as well as two categories (Open and AjPHA/APHA Regional Club). Top individuals and teams take
home great awards. The high-point individual in each age division will receive a special $500
award presented by the event's presenting sponsor Hart Trailers. High-point teams in each age
division and category will receive Gist buckles.
AjPHA National Convention
The largest meeting of the year for all "j" members, and a prime opportunity to help shape
the future of the youth Association. Youth will vote on their national directors, hear about
rule changes, vote on by-law changes and elect the AjPHA Executive Committee on June 28.
Clue of the Day Contest Throughout the show
Activity Involvement Punch Card Contest Throughout the show
Youth Team Tournament June 24, 25, 27
Boot Scramble June 25
Youth Welcome Party w/live band "XAOS"
sponsored by Double C Acres June 25
Community Kids' Day June 26
Horseless Arena Games & Activities Night
June 26
Metro Golf Car Decorating Contest June 29
Coloring Contest Deadline June 28
Youth Exhibitor Social
sponsored by The Fortenberry Family
& Gillespie Show Horses
June 29
Championship Dog Races June 29 & July 1
Ice Cream Social (JJ concourse)
sponsored by Purina June 30
Gist Stick Horse Contest July 2
Parents' Western Pleasure July 2
Youth Versatility Challenge July 2
Youth Awards Presentation July 2
Additionally, the vendors of the Colors of the West Gift Show are open daily from 9 a.m. to 6
p.m. around the show with fun, convenient shopping opportunities for all.
Full details, premium books and class entry forms are available online at
www.aphaworldshow.com. Entries are accepted until 5 p.m. the day prior to the class. The AjPHA
Youth World Show is open to all youth with registered American Paint Horses.
In the best interest of horse health, stringent measures have been put in place by both the
City of Fort Worth's Will Rogers Memorial Center facility and the American Paint Horse
Association (APHA) to maintain a healthy and safe environment. APHA will enforce a 10-day
health certificate requirement (instead of the traditional 30-day certificate) and will have a
health check-in station for all horses entering the grounds to verify proper documentation
before horses can be unloaded.