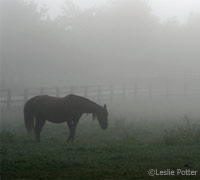 Either allow domestic horse slaughter in the United States or ban it and the export of horses to foreign countries for slaughter. This is the recommendation made by the Government Accountability Office (GAO) in the long-awaited report on horse slaughter. Click here to read the full report.
Officially titled, "Horse Welfare: Action Needed to Address Unintended Consequences from Cessation of Domestic Slaughter," the report explores if and how horse welfare has been affected by the de facto ban on horse slaughter beginning in 2007. While slaughter is not technically illegal, the USDA is prohibited from funding inspections of horse meat or horses for slaughter, effectively eliminating the practice. Some of the aspects of horse welfare taken into consideration for the GAO report are rates of neglect and abandonment, sale prices of horses, and welfare of horses being transported to slaughter.
The report finds that horse welfare in the United States has declined since the closure of the American slaughterhouses, although that decline appears to be due in part to insufficient regulations protecting horses and not simply the lack of a domestic slaughter option. In fact, one of the GAO's proposals is to explicitly ban horse slaughter and the export of horses to slaughter for human consumption. The report's final recommendation is as follows:
"…to allow USDA to better ensure horse welfare…Congress may wish to consider allowing USDA to again use appropriated funds to inspect U.S. horses being transported to slaughter. Also, Congress may wish to consider allowing USDA to again use appropriated funds to inspect horses at domestic slaughtering facilities…Alternatively, Congress may wish to consider instituting and explicit ban on the domestic slaughter of horses and export of U.S. horses instead for slaughter in foreign countries."
Some of the report's findings:
Prices for low- to mid-priced horses decreased as much as 21% due to the end of domestic slaughter with the lowest-priced horses being affected the most. The sale prices on high-end horses were not significantly affected. The GAO used horse prices from three large auctions that deal in both loose (unbroke horses typically sold for meat) and riding horses and therefore do not include any data from private sales. The median sale price from the data used was $1,400.
At the same time, the economic downturn depressed horse prices by around 5% at all price levels, including high-end horses. In other words, while slaughterhouse closures had a much greater impact than the economy on low-end horses' sale prices, any decrease in selling price for higher end horses was likely a result of the recession. For the purposes of this research, high-end horses are those that sold at auction for more than $1,750.
In interviewing state veterinarians and animal welfare associations, the GAO found widespread but anecdotal reports of an increase in horse neglect and abandonment since 2007. No official statistics exist, however.
Horses being shipped to slaughter now travel more than 200 miles farther than they did prior to the closure of the American slaughterhouses. Furthermore, the U.S. laws for humane transport no longer apply after the horses have crossed the border into Canada or Mexico.
The Animal and Plant Health Inspection Service (APHIS) transport regulation was established in 2001 to protect the welfare of horses being shipped to slaughter. Among other things, the regulation states that shippers must provide adequate food, water and rest, trailers must have sufficient space and ventilation, stallions and aggressive horses must be segregated from others, and horses must not be blind in both eyes, unable to bear weight on all four legs, or nearing their foaling date. The GAO report found that the current system has some gaping holes preventing enforcement of the transport regulation.
When horses are transported to slaughter, they may stop at feedlots along the way and aren't designated as "for slaughter" until the final leg of their journey. The transport regulation only protects horses with that designation, so APHIS has no power to enforce regulations until that final leg of what is often a very long trip.
Because the USDA is prohibited from funding horse inspections, the officers charged with ensuring that drivers taking horses to slaughterhouses cannot actually examine the horses, only their documentation. APHIS proposed an amendment to fix this loophole in 2007, but the USDA has not yet implemented the change.
The transport program has insufficient funding with only two staff members and a limited travel budget. Because of this, they are unable to provide enforcement at the many Mexican and Canadian border crossings that horses are shipped through.
In response to the GAO's recommendations, the USDA has agreed to work to implement the APHIS's proposed amendment to expand the transport regulation. The USDA has also said that they will train additional personnel to enforce transport regulations and work with officials from Canada, Mexico, and the Texas Department of Agriculture to ensure consistent handling of slaughter horses throughout the shipping process.
Horse slaughter will continue to be a highly controversial issue within the horse industry and the federal government. Earlier this month, Senator Mary Landrieu (D-La.) and Lindsey Graham (R-S.C.) introduced SB 1176, the American Horse Slaughter Prevention Act, which would outlaw sale or transport of horses or horse meat for human consumption. The bill is currently sitting in committee and has not been scheduled for a vote.
Further Reading
How Humane is Horse Slaughter?
Horse Welfare: Action needed to address the unintended consequences from cessation of domestic slaughter