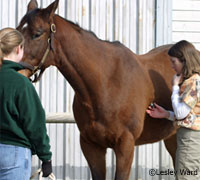 The American Association of Equine Practitioners (AAEP) Foundation will host the 10th International Equine Colic Research Symposium, July 26-28, 2011, in Indianapolis, Ind., at the Indianapolis Downtown Marriott.
The symposium, held every three years, alternating between Europe and North America, is designed to bring together leading researchers, practitioners, residents and graduate students to share knowledge about equine colic, the leading cause of premature death in horses. The two-day symposium will take place at the same location immediately following the AAEP Focus on Colic and Business Education: Practices in Transitions, Transitions in Practice meetings, which will be held at the same location.
As with previous symposiums, the presentations this year will accelerate the exchange of new information about colic among investigators while stimulating new collaborations and research projects. This year's symposium has attracted top researchers from around the world to present the newest information on a variety of colic-related topics. More than 40 oral presentations and more than 75 poster presentations will be presented during the symposium.
"Equine practitioners and researchers remain committed in to solving the puzzle of equine colic," said Nat White, DVM, MS, Diplomate ACVS, Symposium Chairman. "We look forward to sharing the knowledge that we've gathered over the past three years and applying new solutions to this deadly problem."
The meeting format will be similar to previous Colic Research Symposia. Fifteen-minute oral presentations will be followed by a five-minute period for questions and discussion will take place in sessions throughout the symposium.
Attendees will have the opportunity to view research posters each evening during receptions. Poster sessions on the 26th and 27th will expand beyond the oral presentations, giving attendees the opportunity to review and discuss the posters with the various presenters.
A limited number of travel scholarships are available to assist graduate students, residents or researchers wishing to attend the Colic Research Symposium. Five travel awards of $650 (£400) will be made to help cover the cost of travel and lodging. The scholarships are intended to help graduate students, residents and scientists who would be unable to attend the meeting without financial assistance.
The complete program, registration, lodging, travel scholarship information and sponsor information is available online at www.aaepfoundation.org.
Further Reading
Colic Prevention Tips
Colic Surgery Guide