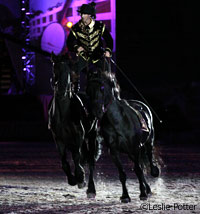 Dan James rode in the opening ceremonies at the 2010 Alltech FEI World Equestrian Games. He will compete for Australia at the 2012 Road to the Horse International. Photo: Leslie Potter
The format has been released, the competitor names announced and tickets are now on sale for Road to the Horse 2012 International. Taking the floor of the Tennessee Miller Coliseum in Murfreesboro, TN on March 9-11, 2012, six of the world's best clinicians from Australia, Canada and the United States will represent their home country and compete for the title of World Champion of Colt-Starting in a first ever international competition dubbed playfully, "A Horse of a Different Color".
Road to the Horse 2012 International will feature the all-star lineup of Guy McLean and Dan James on Team Australia,
Jonathan Field
and Glenn Stewart on Team Canada and
Craig Cameron
and Pat Parelli on Team USA. While still working in partnership with one another, each competitor will bring their own skills and natural horsemanship talents to the table in a competition that is sure to showcase rapid-fire excitement.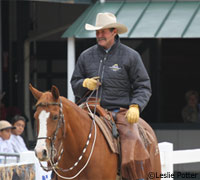 Clinician Pat Parelli, shown here at the 2010 Alltech FEI World Equestrian Games, will be one of the two competitors for Team USA at the 2012 Road to the Horse International. Photo: Leslie Potter
Past Road to the Horse winners include Stacy Westfall, Chris Cox and Richard Winters
"We are ramping it up this year! Going International has given me the opportunity to bring the best horseman in the world to Road to the Horse. If you love Road to the Horse then you can multiply that by 6 this year in Clinicians and double it with horse power. The 6666 Ranch will be bringing the largest remuda of horses to the event ever in our history and I can't wait to see that beautiful remuda come rolling down the alley and bust into the arena! Now that will be something to see!" says Tootie Bland, Road to the Horse owner and producer.
A variety of seating tickets are available ranging in price from $80-100 for general seating to $150-200 for premier seats. A special seating block is available for Road to the Horse Nation members, where they can cheer on their favorite competitors while enjoying camaraderie with fellow members and horsemen.
To buy your tickets today, visit www.roadtothehorse.com or call 877-772-5425 to order over the phone with the assistance of a customer service representative.