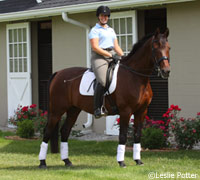 Dressage rider and USEF Safety Committee rider representative Reese Koffler-Stanfield will be one of the panelists at the Helmet Safety Symposium. Photo: Leslie Potter
The equestrian helmet awareness campaign Riders4Helmets will be presenting the second Helmet Safety Symposium this weekend in Lexington, Kentucky.
The previous symposium, held last winter in Wellington, Florida, was very well-received. This follow-up will feature presentations and panel discussions on a wide variety of topics related to equestrian safety and injury prevention. Topics include traumatic brain injury, the role of professional riders in helmet awareness, safety standards for equestrian helmets, and how to increase acceptance of helmet use among equestrians.
Presenters include John Long, CEO of the United States Equestrian Federation, retired jockey PJ Cooksey, Grand Prix dressage rider Reese Koffler-Stanfield; eventer Cathy Wieschhoff, Riders4Helmets co-founder Lyndsey White, and other equestrians and physicians.
Additionally, a video presentation titled "Expect the Unexpected" by Olympic dressage rider Courtney King Dye will kick off the event. King Dye's 2010 riding accent that left her in a coma was the inspiration for the Riders4Helmets campaign.
The symposium is free and open to the public, but pre-registration is encouraged. To learn more, visit www.riders4helmets.com