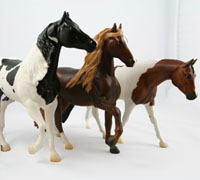 Equine fantasies and fairy tales will come true for more than 6,000 Breyer fans and horse lovers when BreyerFest, the annual horse fair and model horse collector festival hosted by Breyer Animal Creations®, prances into Lexington, KY for its 22nd consecutive festival at the Kentucky Horse Park. BreyerFest will be held Fri.-Sun., July 15th-17th rain or shine. The three-day family festival features nationally known equine entertainers, a trade show, petting zoo, free pony rides, fine Artisans' Gallery, model horse customizing workshops, a free craft & activity tent, dog agility and more! Most importantly, BreyerFest is a place where kids and horses can connect.
Matt McLaughlin's Pecos has claimed the coveted spot as the 2011 BreyerFest Celebration Horse, the horse whose Breyer portrait model comes with each three-day ticket. Pecos is a gorgeous Andalusian stallion descended from the Champion of Champions Legionario III of Spain (also honored as a Breyer model). They will perform their signature garrocha act daily.
Also performing daily will be the Awesome Aussie Guy McLean, dubbed the "Steve Irwin of horses." He has brought his four Australian-bred horses out of the Outback and into America dazzling crowds with their mesmerizing performances. Mark & Dusty will prove to you that there is no limit to what you can teach your horse to do. Mark Peterson and Dusty have traveled the country showcasing Dusty's astonishing ability to learn new tricks and skills on command! The All American Cowgirl Chicks, a team of daredevil, trick riders whose performance partners are rescue horses and rehabilitated mustangs, will dazzle audiences delivering thrills and chills as well as demonstrating the importance of equine rescue and rehabilitation.
BreyerFest will also welcome Kentucky's own knight in shining armor, when Dan Peterson, director of the Don F. Pratt Museum, Fort Campbell, KY brings his Medieval Pavilion to life. The 30' pavilion is complete with artifacts, period clothing, furnishings and full suits of armor.
As always, BreyerFest is the place where kids can connect with the horses that inspired the Breyer models. This year's event features a stellar assembly of the most portrait models ever. Breyer Portrait Models include: KONG, the legendary 'wheeler' of the famed Priefert Ranch Equipment Hitch, a massive Percheron, who performs for more than six million people each year. Sato, a Jockey Club registered Thoroughbred stallion that is an extremely rare palomino pinto sabino. He has flashy Paint coloration and the elegant conformation of a Thoroughbred. Kripton Seni II, stunning Andalusian was a USEF Horse of the Year honoree and has more than twelve (12) National Championship titles to his record. TS Black Tie Affair, a 7/8 Arabian Pinto that has won an astonishing 22 Pinto World and Reserve World Championships and two Pinto All-Around Pleasure High Point titles. And Grand Central, grandson of Prince Jester, a Missouri Fox Trotter stallion that is a three-time World Grand Champion. Prince Jester has sired 15 World Grand Champions, six Reserve World Champions, and six Futurity/World Champions.
Other Activities include:
40 unique and thrilling equine performances: Friesians, minis, Pony Club Mounted Games, and much more!
Breyer Craft Activity Center – FREE craft activities for children!
FREE pony rides
Exotic petting zoo with camel rides
Dog Agility (on Saturday only)
Autograph sessions with guest horses and speakers.
65-Booth Trade Fair featuring equestrian collectibles, equine art, jewelry and more.
Breyer Store – Find models made ONLY for BreyerFest plus much more!
Model Horse Shows: Open, Youth and Children (pre-registration)
Model Hobby Workshops (pre-registration required)
Free Seminars: Learn to Collect Model Horses, Valuing Your Breyer Collection and more!
Artisans' Gallery featuring top equine artists/sculptors at the Clarion Hotel
A Swap Meet for buying, selling, swapping model horses at the Clarion Hotel
TICKETS: Tickets are available for purchase on-site at the BreyerFest Ticket Booth at KHP.
Single Day Tickets: Adults: $20 / Children 7-13 yrs: $10 – Each paid ticket comes with a Ltd. Ed. Breyer Stablemates® model horse available only at BreyerFest while supplies last.
Three Day Tickets: Adults: $85 / 7-13 yrs: $55 – Comes with 2011 Celebration Horse model, Pecos, a Ltd. Ed. Traditional® Breyer model valued at $40 – available only at BreyerFest while supplies last.
Visit www.BreyerHorses.com for more information or call 973-633-5090.