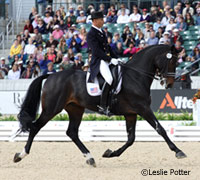 Steffen Peters and Ravel, shown here at the 2010 Alltech FEI World Equestrian Games, finished a close second behind Matthias Rath and Totilas in the Grand Prix Freestyle at Aachen. Photo: Leslie Potter
Team USA wrapped up the 2011 World Equestrian Festival CHIO in Aachen, Germany with more strong performances, including a second place finish for Steffen Peters and Ravel in the Grand Prix Freestyle CDIO and a win for show jumper McLain Ward on Rothchild.
Peters and Ravel, owned by Akiko Yamazki and Four Winds Farm, stepped up their game today and gave the best dressage horse in the world a run for his money in the Grand Prix Freestyle CDIO for the Deutsche Bank Prize.
The judges gave Ravel and Peters technical scores of 77.25, 77.00, 80.50, 80.50, and 76.75, along with artistic scores of 86.00, 83.00, 83.00, 89.00, and 87.00 for an overall 82.000%, just .825% off the winning score set by Matthias Rath (GER) and Totilas.
According to Dressage-news.com, Peters said, "It felt fantastic. I'm still searching for words to describe it. The icing on the cake was the reaction of the crowd. That was a huge honor. I finished fifth in the Grand Prix and the Special, so to come within fractions of Totilas and Parzival in the freestyle is amazing."
Win for Ward on Final Day
The American show jumpers were strong in one of the last classes in Aachen, the Yageo Prize speed class. McLain Ward and Rothchild, owned by Sagamore Farm, were the fastest of the day to take the win in 55.00 seconds. Just .85 seconds behind in second place were Margie Engle and Indigo, owned by Griese, Garber, Gladewinds Farm, and Hidden Creek Farm. Beezie Madden and Amadora, owned by Abigail Wexner, placed fourth.
In the final competition for driving, Chester Weber with four-in-hand team of Horus du Bois, Para, Splash, and Uniek, placed second with a time of 122.68 in the Obstacle Driving Competition with drive-off, Rating Competition for Team Classification for the Prize of Coca-Cola Erfrischungsgetränke AG. It was a solid finish for the American driver who placed third in the overall individual standings.
For full results, please visit www.chioaachen.de/en/starterlisten. For more information on the Team athletes in Aachen, please visit www.usef.org.
To see photos and videos from Aachen, click here.