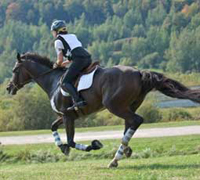 John Nunn, owner of Bit of Britain, thought, "Shouldn't the lower level event riders feel as though their efforts are rewarded?" It's this thought that led Nunn to create the Chase the Challenge Across America.
In some disciplines, one may reap the benefits of money spent through winning a class with a cash prize. But in eventing, that doesn't happen very often so what are the benefits?
For the rest of the 2011 season at recognized horse trials across the country, any horse and rider combination that wins two shows back-to-back in levels Beginner Novice through Training will win a $25 gift card to Bit of Britain and a pair of Nunn Finer Brushing Boots ($48.95 value).
"We know it's not much, but it's something," said John Nunn, owner of Bit of Britain. "We wanted to offer a national challenge for the lower levels that would help motivate people to keep entering shows. In the horse world, every dollar counts, and that $25 gift card could go towards something this competitor needs to keep showing."
In addition, this $25 amount was chosen in celebration of Bit of Britain's 25 years in business.
This horse and rider combination may win by winning two shows back-to-back at the same level, or by winning a show at one level, and then advancing one level and winning at the next show (e.g. winning Beginner Novice and Novice or Novice and Training). If the horse and rider combination wins two shows while moving up a level, they will win an additional $10 ($35 gift card and Nunn Finer Brushing Boots).
You don't have to win at the same venue to be eligible. You can compete at any show across the country, as long as your wins are back-to-back.
If you won before Chase the Challenge started in the 2011 season, as long as you win your second consecutive show in July you are eligible to win (i.e. you won in April and won your second show of the season in July).
What to do if you win two shows back-to-back? First, go online to www.useventing.com and verify that your scores are posted (amateur scoring excluded). When you've seen that your wins are posted, call up Bit of Britain at 888-442-5015 with your name and USEA number ready. Our Customer Service Representatives will verify your two wins and then send you your prizes!*
There are no strings attached! As one of the largest supporters of this sport, Bit of Britain, as always, wants to give something back to its competitors.
For more information regarding Chase the Challenge or Bit of Britain contact Molly Gasiewicz at molly@bitofbritain.com or by calling 610-998-0400×26.
*Winners will only receive their prizes by calling in; Bit of Britain will not be tracking scores. Verification could take up to two (2) weeks depending on when your scores are posted on the USEA website.