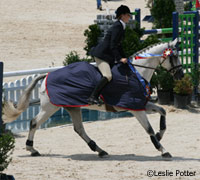 Laura Roberts won individual eventing gold with Galway Blazer at the 2009 North American Junior & Young Rider Championships. Photo: Leslie Potter
Up-and-coming riders from dressage, endurance, eventing, show jumping and reining are competing today through Sunday at the Adequan/FEI North American Junior & Young Rider Championships presented by Gotham North (NAJYRC). Teams and individuals between the ages of 14 and 21 come from Canada, Mexico, Bermuda, the Caribbean Islands and all regions on the United States.
The NAJYRC began as a Canadian/American eventing competition in 1974. Dressage and show jumping were added in the early 1980s and reining joined the competition in 2008. This year marks the first NAJYRC that includes an endurance championship. Para-dressage is also featured this year as a non-championship event.
Watch highlights from the 2009 NAJYRC reining competition.
Many Olympic equestrians and other top riders are NAJYRC alumni, including Karen O'Connor, McLain Ward, Chris Kappler and Greg Best. The NAJYRC offers talented young riders the chance to experience top international equestrian sport while competing with their peers.
Spectators are welcome at all events, which are included with Kentucky Horse Park admission. To learn more and view a schedule of events, visit www.youngriders.org