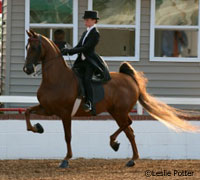 The Saddle Seat Equitation World Cup Team was one of the major beneficiaries of the 2011 USA Equestrian grants. Photo: Leslie Potter
Several horse-related charities and educational programs have received support from USA Equestrian Trust (USAET), a not-for-profit organization that aims to preserve and enhance equestrian sport in the U.S.
USAET is an affiliate of the United States Equestrian Federation and much of the 2011 grand money was awarded to USEF Equine Health Research Fund. The projects that will benefit from the grant are:
Design and Optimization of Collapsible Obstacles for Use in the Cross Country Phase of Equestrian Three-Day Eventing by Washington University
Validation of Hoof-based Sensor System for Detection of Subtle Lameness in the Horse by Colorado State University
Immunoproteomic Analysis of Stable Dust in Horses with Chronic Airway Inflamation by Purdue University
Investigating the Epidemiology and Pathology of Shivers by the University of Minnesota
Another major beneficiary of this year's grants was the USEF Saddle Seat Equitation World Cup Team. The World Cup is a competition between approximately six nations held every two years. Because saddle seat equitation is not an Olympic discipline, riders in that sport have not historically received funding from the USEF and had to raise $5,000 to participate in the World Cup finals. This grant will help reduce the travel costs for the 2012 World Cup Teams by half.
Other grant recipients include: Old Field Farm, a historic equestrian center in need of major renovations to continue hosting educational programs for riders and horse owners; Camp Horseability, a program that offers riding and competitive opportunities to special-needs equestrians; UPHA Ribbons of Service, a program that rewards junior exhibitors in the saddle seat breeds for raising money and volunteering for charities; The Morris Animal Foundation for research into laminits treatment; and the Equine Land Conservation Resource, an organization that works to educate and motivate riders to preserve land for equestrian use.
To see the full list of grant recipients, visit trusthorses.org