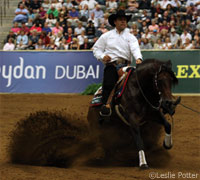 Craig Schmersal competed with 12-year-old stallion Mister Montana Nic at the 2010 Alltech FEI World Equestrian Games. Photo: Leslie Potter
In May of this year, Danish website Epona.tv released video from the warm-up arena at the World Reining Final in Sweden that showed what appeared to be some very heavy-handed riding by top competitors.
Epona.tv's videos included footage of Americans Craig Schmersal and Tom McCutcheon as well as German reining champion Nico Horman and others. The videos show riders jerking on the reins, bringing horses to a point of hyperflexion, and repeatedly "fencing," or running the horses nearly into the wall while practicing sliding stops. They also show the International Equestrian Federation (FEI) stewards present in the warm-up area, apparently not responding to or taking action on the harsh riding.
McCutcheon and Schmersal placed first and second, respectively, at the event.
The videos are still available at Epona.tv, but most require a paid subscription to view. The video of Schmersal, which went viral after Epona.tv posted it to YouTube, caused outrage across the equestrian world. In response, the FEI launched an internal inquiry into the event. Click here to watch the video on YouTube.
On August 2, the FEI released an announcement stating that the inquiry had been completed. According to the statement, no yellow cards were issued at the event, but verbal warnings were given to several riders for violations including overly aggressive use of hands, overly aggressive use of spurs, and running the horse into the wall. Findings from the inquiry were used in the FEI's seven-month review of the rules structure for international reining competition, including regulation of training and warm-up methods.
However, the FEI's statement also said, "…due to the lack of authenticated evidence such as original unedited video footage, no further action can be taken against any individuals."
The FEI had previously requested Epona.tv's original footage from the practice session. Epona.tv has stated that they will not release this footage or any past or future footage for several reasons, primarily because, "…handing over our un-published raw footage…would constitute active participation in a legal matter, and undermine our independence."
Additionally, Epona.tv says, "…we couldn't care less if the riders we have filmed at a single event are investigated or even sanctioned by the FEI. That won't help the thousands of horses who are trained this way—and worse—partly because the FEI turns a blind eye, and passively perpetuates the general acceptance of such methods."
"We absolutely understand the importance of learning from this alleged incident", FEI Director Non-Olympic Sports Ian Williams said in the news release. "Our work over the last seven months has been to ensure that we put new Reining Rules in place that protect the welfare of the horse, as well as systems that empower our Stewards to enforce those Rules."
Further Reading
Epona.tv: Reining Scandal
Epona.tv: Raw Footage

FEI News Release on New Reining Rules