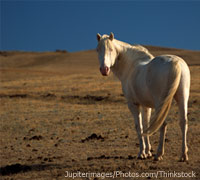 The BLM routinely rounds up wild horses and burros throughout the year and makes some available for public adoption.
The Bureau of Land Management (BLM) announced on August 2 that it would not move forward with a plan to round up nearly 900 horses in Wyoming. The BLM had intended to geld the stallions captured in the round up and release 177 of them back to the range as geldings to help curb population growth. They will revisit the plan later this month.
Several advocacy groups that work to prevent any interference with American wild horses filed a lawsuit alleging that the round up was illegal. The 1971 Wild Free-Roaming Horses and Burros Act requires the BLM to protect and manage the Mustang herds in the west. Opponents of the BLM's wild horse and burro management say that their tactics are pushing the animals toward extinction.
One of the groups involved in the lawsuit is the American Wild Horse Preservation Campaign. On their website, they describe the actions they support in Mustang management.
A suspension of roundups in all but verifiable emergency situations while the entire BLM wild horse program undergoes objective and scientific review;
Higher Appropriate Management Levels (AML) for wild horses on those rangelands designated for them;
Implementation of in-the-wild management, which would keep wild horses on the range and save taxpayers millions annually by avoiding the mass removal and stockpiling wild horses in government holding facilities.
The BLM counters claims that the round ups are causing irreparable harm to wild horse and burro populations. On its website, the BLM states:
The current on-the-range population of wild horses and burros (approximately 38,500) is greater than the number found roaming in 1971 (about 25,300). The BLM is seeking to achieve the appropriate management level of 26,600 wild horses and burros on Western public rangelands, or nearly 12,000 fewer than the current West-wide population.
Further Reading
Wild horses arrive at Madeleine Pickens' eco-sanctuary in Nevada