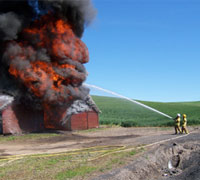 CORRECTION: This article originally stated that 14 horses had died in the fire. Only 13 horses died and one escaped the barn but is currently missing. Click here for more information.
Original Article:
On Tuesday, August 9, a fire tore through a barn that housed 28
Arabian
and half-Arabian show horses in Magnolia, Texas. The Goslin-Nix Training Center was owned and operated by Fred Goslin and his family along with trainer Gwen Nix.
The fire was initially reported by a local resident, David Singleton, who noticed the fire on his daily commute to work around 6 a.m. Half of the horses in the barn were claimed by the fire, but half were able to escape thanks to Goslin and his family and neighbors who opened outer stable doors to let the horses out. None of the surviving animals sustained serious injuries.
The 30,000-square foot barn was completely destroyed by the fast-moving fire, and according to an article on yourhoustonnews.com, the building was not insured. High winds at the time of the fire put the family's house at risk, but firefighters were able to control the blaze before it spread to other buildings.
The cause of the fire is still under investigation, but early reports do not suggest anything suspicious.
The Arabian Horsemens Distress Fund, an organization that helps professionals in the Arabian horse community in times of need, is collecting donations to help clean up and rebuild the stable. For more information, visit www.horsemensdistressfund.com.
Further Reading
Extinguish the Threat of Barn Fires
Be Prepared for a Barn Fire