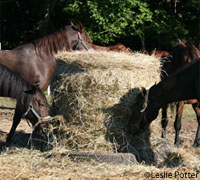 The economy has been particularly rough on horse farms this year's widespread hay shortages have caused the price of hay to skyrocket, making it more difficult than ever for many people to care for their equine companions. With most horse rescues already at capacity, recent American Society for the Prevention of Cruelty to Animals (ASPCA) Equine Fund grantee Dream Catcher Therapy Center had the foresight to address the problem of horse abandonment at its source, resolving to help people through tough times so they can keep their beloved animals.
Although the Dream Catcher Therapy Center's primary role is to provide animal assisted therapy for those with physical or mental health issues, it has become a vital resource in western Colorado through its hay bank. The ASPCA's most recent grant of $4,000 will allow the Center to shore up its supply of hay, which will be available free of charge to individuals requesting help.
"This is a good group that thinks beyond their own doors and asks, 'How can we keep horses in their homes?' as opposed to them winding up in rescue or headed for slaughter," says Jacque Schultz, Senior Director, ASPCA Equine Fund.
Located in Olathe, Colorado, the Dream Catcher Therapy Center has helped more than 1,200 disabled children and adults, and has rescued, rehabilitated and re-homed hundreds of at-risk horses. The Center is a verified Global Federation of Animal Sanctuaries facility. This is the ASPCA's fourth grant to them in as many years.
The ASPCA is on track to award more than 10 million dollars in grant money to worthy animal welfare groups across the U.S. in 2011. To learn more, including how your organization can apply for an ASPCA Grant, please visit aspcapro.org.